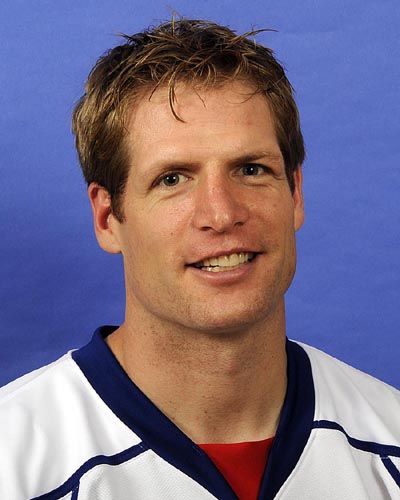 + Enlarge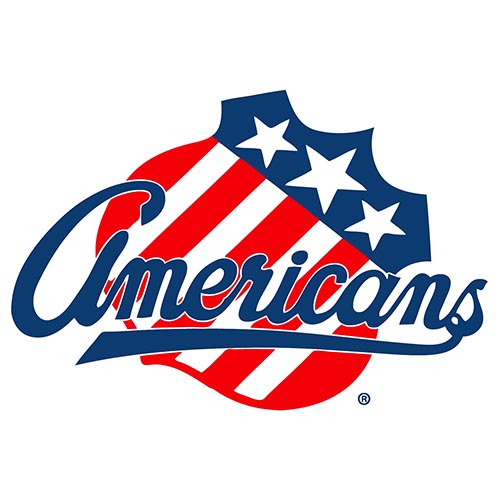 4
Rory Fitzpatrick (D)
Rochester Americans
| | |
| --- | --- |
| Name: | Rory Fitzpatrick |
| Number: | 4 |
| Position: | D |
| Shoots: | R |
| | |
| --- | --- |
| Height: | 6-2 |
| Weight: | 208 |
| Birthdate: | 1975-01-11 |
| Birth place: | Rochester, NY |
Biography
Acquired: Signed a two-year deal as a free agent with the Florida Panthers on July 3, 2008. Was originally a second-round selection (47th overall) by the Montreal Canadiens in the 1993 NHL Entry Draft.

Last Season: Finished 14th pro season and fourth stint with his hometown team with 14 points (4+10) and 37 PIM in 46 games... Named the co-winner of the 2008-09 Amerks' McCulloch Trophy for his outstanding community service as voted on by the Amerks organization... Missed the last 12 games (3/18-4/11) with an injury... Named the Amerks' American Specialty/AHL Man of the Year... Underwent season-ending surgery to repair sports hernia on 3/19... Missed two games (2/21-2/22) with an injury... Had two points (1+1) at Peoria on 2/15... Picked up a pair of assists against Binghamton on 2/07 to earn third star honors... Collected two points (1+1) at Providence on 1/18... Scored the game-winning goal in his first game back in the lineup against Syracuse on 1/09 after missing the last 12 with an injury... Missed 12 games (12/07-1/03) with an injury... Named team captain for Team PlanetUSA for the 2009 AHL All-Star Classic... Underwent surgery on 12/09 to repair a torn meniscus... Played in his 400th AHL game against Grand Rapids on 11/29... Netted his first goal of the season on 11/19 against Toronto... Missed three games (10/24-10/26) with an injury... Made season debut against Syracuse on 10/10, recording first point of the season with an assist... Appointed team captain

Career: 2007-08: Scored his first goal as a Phantom in a 3-1 win at Wilkes-Barre/Scranton...Prior to joining the Phantoms, missed the last 18 games with the Flyers due to a sports hernia...Posted an assist at Carolina on 11/21 his first point as a Flyer...Was scoreless at Tampa Bay on 10/25, his first game as a Flyer...Split the season between the Flyers (NHL) and Phantoms (AHL)...2007 Preseason: Attended Flyers' Training Camp on a try-out basis and was scoreless in one preseason game

2006-07: Despite playing in 58 games for the Canucks, Fitzpatrick finished third in All-Star Game voting for defensemen in the Western Conference with 550,177 votes, falling 23,000 votes shy of second place Nicklas Lidström, winner of five Norris Trophies and four Stanley Cups...Posted a goal and six assists for seven points and 46 penalty minutes in 58 regular season games for the Vancouver Canucks...Signed as a free agent with the Vancouver Canucks on August 18, 2006

2005-06: Had nine points (4+5) and 50 PIM in 56 games in his last season with the Buffalo Sabres Posted a pro career-high four points (0+4) and 16 PIM in 11 postseason contests

2004-05: He scored his first goal of the season on 03/20 against Cleveland...He made his 2005 Amerks' debut on 03/05 at Manitoba...He signed with the Rochester Americans as a free agent on March 2, 2005

2003-04: Established career highs in games played (60), goals (4), assists (7) and points (11)...Scored GW/PPG vs. Ottawa (01/09) with 2:47 to play...Tally was his first GWG in NHL career...Scored a PP goal at Toronto (01/03)... Goal was his first of the season and second of his NHL career...Appeared in his 125th NHL career game vs. Ottawa (12/23)...Was +2 in win at Los Angeles (10/23), his 100th NHL game...Assessed a career-high nine penalty minutes against Kings

2002-03: Had four points (1+3) in 36 games with Buffalo...Received five NHL recalls...Scored his first NHL goal on 02/15 against the New York Rangers...He had seven points (3+4) in a six-game span from 11/03 to 11/16...Had a four-game point streak from 11/03 to 11/11...He recorded the first two-goal game of his Amerk career on 11/10 against Chicago...He recorded his 100th assist as a professional on 11/08 against Cleveland...He was one of the team's alternate captains

2001-02: Led all Rochester defensemen in postseason points and was tied for third on the team...Made his Rochester Americans playoff debut on 04/09 in Game One of the Western Conference Qualifier against the Philadelphia Phantoms...Registered 12 points (4+8) in 60 regular season games...Played in five games with Buffalo and registered four penalty minutes...He led the Amerks with a plus-12 rating and also collected 83 penalty minutes...Was the co-winner of the McCulloch Trophy for service to the Rochester community...Returned to the Amerks' lineup on 01/16 after missing four games with an injury, 01/05 to 01/12…During the season, he missed 11 because of injury...He had a two-game point streak (0+2) from 3/22 to 3/23...Played in his 300th AHL game on 03/16...Played in his 400th game as a professional on 03/02 at Chicago...He was the February recipient of the VIP Player of the Month award…the award, which is sponsored by Mary Cariola Children's Center, honors the Amerk that has shown the greatest commitment to local charities...Recorded his best offensive night of the season on 01/25, recording one goal and one assist against Syracuse...Recalled by Buffalo on 11/10 and played in four games with the Sabres before returning to Rochester on 11/23...Returned to Rochester on 11/03 after being recalled on 10/26...He made his Buffalo Sabres' debut on 10/27 against the New Jersey Devils...Broke the 400 penalty minute mark in his AHL career on 10/13 against Syracuse...He became the first Rochester, NY, native to score a goal for the Rochester Americans, when he netted his first goal as an Amerk on 10/06 against Wilkes-Barre/Scranton...Signed with the Buffalo Sabres as a free agent on August 14th

2000-01: He finished the season with the Hamilton Bulldogs, and registered three goals and 17 assists for 20 points in 34 games...Traded to Edmonton from Nashville for future considerations on January 12, 2001...He also appeared in two games with the Nashville Predators (NHL)...Fitzpatrick started the season with the Milwaukee Admirals before being traded to the Edmonton Oilers on January 12th for future considerations...With the Admirals he had two assists in 22 games

1999-00: On February 9th, Rory was traded to the Nashville Predators for Dan Keczmer

1998-99: He played in 53 games with Worcester and registered 21 points (5+16)...He played one game for the Blues that season...On October 5th, he was claimed in the Waiver Draft by the Boston Bruins... Two days later, he was reclaimed on waivers by the St. Louis Blues

1997-98: He hit career highs in goals (8), assists (22), points (30), and penalty minutes (111)...He had his best offensive season of his career, recording 30 points in 62 games with the Worcester IceCats (AHL)

1996-97: He was traded on October 29th with Pierre Turgeon and Craig Conroy to the St. Louis Blues for Shayne Corson, Murray Baron and a fifth-round draft pick

1995-96: He played in 42 games his rookie season with the Montreal Canadiens and appeared in six playoff games...He scored his first NHL goal in a playoff game against the New York Rangers (Mike Richter) on April 26, 1996...Made his NHL debut on December 15, 1995 at Chicago and recorded his first NHL point/assist the following night against Philadelphia

1994-95: Made his professional debut with the Fredericton Canadiens during the 1995 postseason and helped lead the Baby Habs to the Calder Cup Final...Was a member of Team USA at the 1995 World Junior Championships in Red Deer, Alberta.

1992-95: The local hockey product played three seasons with the Sudbury Wolves of the Ontario Hockey League, prior to his first full season in the pros (1995-96)...He made the OHL All-Rookie Team in 1993...He was the Montreal Canadiens' second-round selection (47th overall) in the 1993 NHL Entry Draft.

Career Milestones: The Irondequoit, NY, native enters his 14th season of professional hockey… In his career, he has played in 287 regular season games in the NHL for the Buffalo Sabres, Montreal Canadiens, St. Louis Blues, Nashville Predators, Vancouver Canucks and Philadelphia Flyers… Fitzpatrick twice participated in the AHL All-Star Classic (1997 & 1998)… At the 1997 event, he won the hardest shot competition, firing the puck 92.4 miles-per-hour.

Personal Married: wife, Tracey; daughter, Hannah; and sons, Brady, Rory and Conner… Played for Rochester Youth Hockey as a kid.
Regular Season Stats
Season
Team
GP
G
A
PTS
+/-
SOG
PIM
SOG
SOA
SOGW
SO
2009-10 Regular Season
Rochester Americans
44
0
6
6
-1
59
37
0
0
0
0.000
2008-09 Regular Season
Rochester Americans
46
4
10
14
-25
71
37
0
0
0
0.000
2007-08 Regular Season
Philadelphia Phantoms
19
1
4
5
-5
20
24
0
0
0
0.000
Playoff Stats
Season
Team
GP
G
A
PTS
+/-
SOG
PIM
SOG
SOA
SOGW
SO
2010 Calder Cup Playoffs
Rochester Americans
2
0
0
0
1
2
0
0
0
0
0.000
2008 Calder Cup Playoffs
Philadelphia Phantoms
12
0
2
2
0
16
11
0
0
0
0.000