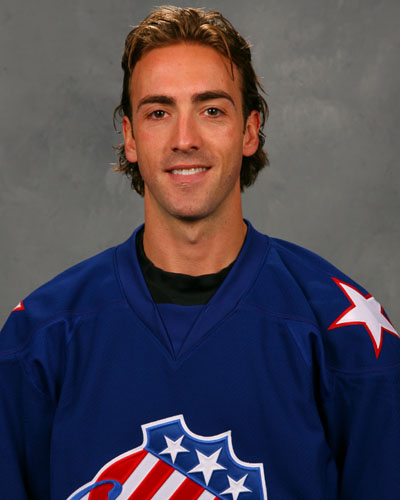 + Enlarge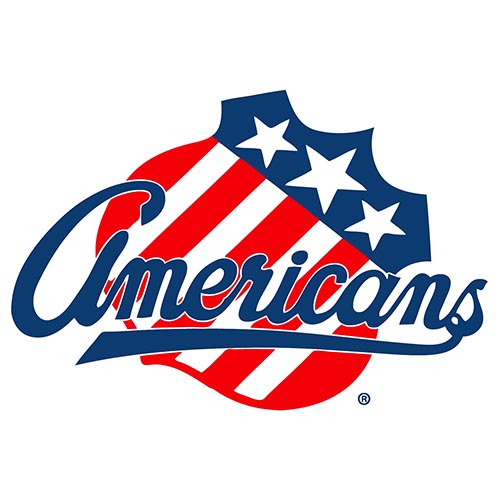 19
Michael Ryan (LW)
Rochester Americans
| | |
| --- | --- |
| Name: | Michael Ryan |
| Number: | 19 |
| Position: | LW |
| Shoots: | L |
| | |
| --- | --- |
| Height: | 6-1 |
| Weight: | 188 |
| Birthdate: | 1980-05-16 |
| Birth place: | Boston, MA |
Biography
2009-10: Missed Carolina's first 33 games after suffering a concussion in an exhibition game against the Atlanta Thrashers on Sept. 21… Activated from IR and assigned to Albany (12/18)… Made his season debut at WBS (12/26)… Suffered a lower body injury vs. ADK (12/30) and has not played since.
2008-09: Totaled 42 points (25-17-42) in 40 games with Albany, and added two assists in 18 contests with the Hurricanes… Attended training camp with Nashville (NHL) on a free-agent tryout… Played in the Predators first two preseason games… Released from training camp tryout by Nashville (NHL) on 9/30/08… Signed a one-year contract with Carolina (NHL) and was assigned to Albany (AHL) on 10/31/08… Made his River Rats debut on 11/1/08 at Hartford… Recorded his first career points for Albany and the Rats first three-point game of the season with the game-winning goal and two assists on 11/2/08 at Bridgeport… Recalled to Carolina (NHL) on 11/7/08 and made his Hurricanes debut that night against Ottawa (NHL)… Returned to Albany (AHL) on 11/10/08 after playing in two games for Carolina (NHL)…Tallied one assist and scored the shootout-winning goal on 11/15/08 at Lowell… Recorded one assist and scored the game-winning shootout goal on 11/27/08 (Thanksgiving) at Binghamton…Posted an assist for the second straight game on 11/28/08 vs. Hershey…Had his five-game point streak snapped on 12/6/08 at Wilkes-Barre/Scranton…Scored a Hat Trick and added two assists to tie a single-game Albany franchise record with a five-point performance on 12/12/08 at Manchester; his third goal of the game was his 150th career Pro point…Played in his 300th career Pro game and scored his 10th goal of the season on 12/28/08 at Hershey…Scored a Hat Trick, including the game-winning goal in overtime, on 1/3/09 to beat Bridgeport 3-2; became the third player in River Rats history to record two or more Hat Tricks in one season…Selected to the 2009 PlanetUSA AHL All-Star Team…Scored two goals on 1/10/09 at Hershey…Posted his third Hat Trick of the season, including his 75th career AHL goal, and was +3 on 1/14/09 at Hershey…Scored for the third straight game, a power play goal, on 1/16/09 at Syracuse…Had his three-game goal streak snapped on 1/17/09 vs. Wilkes-Barre/Scranton…Scored his 20th goal of the season on 1/18/09 at Philadelphia…Netted two goals and added one assist for a three-point game on 1/23/09 vs. Binghamton…Scored the game-winning goal for the second consecutive night on 1/24/09 vs. Rochester…Represented Albany in the 2009 AHL All-Star Classic in Worcester and had three points (2 goals, 1 assist) for the PlanetUSA AHL All-Stars on 1/26/09…Recalled to Carolina (NHL) on 1/28/09…Returned to Albany on 2/9/09 after playing in four games for the Hurricanes…Scored his 24th goal of the season on 2/10/09 at Portland at HSBC Arena…Scored his 25th goal of the season and added one assist to extend his goal-scoring streak to four games on 2/11/09 at Binghamton…Recorded two assists, including his 40th point of the season on 2/13/09 vs. Springfield…Played in his 250th career AHL game and tallied one assist to extend his point streak to an Albany season high six games on 2/14/09 vs. Lowell…Recalled to Carolina (NHL) for the third time this season on 2/16/09.
Career Notes: Signed by Carolina (NHL) as free agent to a one-year two-way contract on October 31, 2008…Set career highs with Rochester (AHL) in 2006-07 by scoring 51 points (28 goals, 23 assists) in just 50 games played…Originally drafted by Dallas (NHL), his rights were traded by the Stars to Buffalo (NHL), along with a draft pick, on March 10, 2003 in exchange for Stu Barnes.
College: Played four years of Division I NCAA college hockey for Northeastern University of Hockey East…Played in 135 career NCAA games for the Huskies and scored 113 career points (63 goals, 50 assists)…Helped Northeastern reach the 2001-02 Beanpot Championship game against Boston University.
Regular Season Stats
Season
Team
GP
G
A
PTS
+/-
SOG
PIM
SOG
SOA
SOGW
SO
2011-12 Regular Season
Rochester Americans
8
1
3
4
1
13
19
0
0
0
0.000
2010-11 Regular Season
Adirondack Phantoms
52
25
16
41
2
174
47
3
10
1
0.300
2010-11 Regular Season
Springfield Falcons
6
1
2
3
1
12
0
0
0
0
0.000
2009-10 Regular Season
Albany River Rats
3
0
0
0
-1
6
2
0
0
0
0.000
2008-09 Regular Season
Albany River Rats
40
25
17
42
4
122
34
3
6
2
0.500
2006-07 Regular Season
Rochester Americans
50
28
23
51
15
159
68
2
5
1
0.400
2005-06 Regular Season
Rochester Americans
56
14
23
37
-6
182
75
3
7
2
0.429
Playoff Stats
Season
Team
GP
G
A
PTS
+/-
SOG
PIM
SOG
SOA
SOGW
SO
2012 Calder Cup Playoffs
Rochester Americans
1
0
0
0
-1
1
0
0
0
0
0.000
2007 Calder Cup Playoffs
Rochester Americans
6
4
0
4
-3
18
4
0
0
0
0.000