+ Enlarge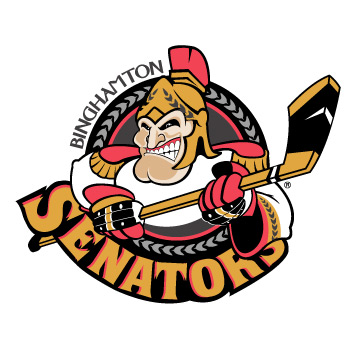 52
Nathan Lawson (G)
Binghamton Senators
| | |
| --- | --- |
| Name: | Nathan Lawson |
| Number: | 52 |
| Position: | G |
| Shoots: | L |
| | |
| --- | --- |
| Height: | 6-2 |
| Weight: | 196 |
| Birthdate: | 1983-09-29 |
| Birth place: | Calgary, AB |
Biography
2012-13: Played in 23 games with Binghamton (AHL) … Posted a 12-6-2 record with a 2.19 goals-against-average … Recorded two shutouts for the B-Sens, including his 10th career AHL shutout …Was the starter in all three of Binghamton's playoff games, posting a 2.60 GAA.

2011-12: Saw action in 44 games with the Bulldogs last season… Set a career-high in shutouts with five.

2007-08: Saw action in 24 games, playing 1,390 minutes, good for second amongst Utah netminders... Led the Grizzlies with a 2.89 GAA and a .906 save percentage... Only Grizzlie goalie to earn a shutout during season... Amassed 14 wins with Utah... Earned three wins, including a shutout in five games with Phoenix Roadrunners… Played 10 playoff games, assisting on two goals.

2006-07: Played and started a career-high 27 games junior season, owning a 3.03 goals-against average and .893 save percentage and recorded a personal-best 10 wins (10-15-2 overall)...Season GAA was lowest by a Seawolve goalie since 1999-00, and fourth-lowest since UAA joined the WCHA (seventh-lowest all time)...Season win total was most by a UAA net-minder since 1998-99 (Gregg Naumenko, 11)...Played a career-high 1523:50 minutes...Recorded 644 saves (second-most of career)...Earned WCHA Defensive Player of the Week honors.

2005-06: Posted a team-best .908 save percentage, 3.44 GAA and 4-11-3 record...Recorded career-high 51 saves in 2-2 tie at Michigan Tech (Jan. 21)...Posted nine games of 30 or more saves, including two over 40...Earned two WCHA Defensive Player of the Week honors (Dec. 12 and Jan. 23)...Became first net-minder in school history to record back-to-back seasons with a .900 save percentage or higher.

2004-05: Voted team MVP and Rookie of the Year by teammates…Recorded 18 games of 30 or more saves, including seven of 40 or more...Named to the WCHA All-Rookie Team...Posted second-best single-season save totals in UAA history, recording 867 saves...Registered third-best single-season save percentage in team history (.914), which ranked as eighth-best among WCHA goalies...A four-time WCHA Player of the Week award winner, earned three Rookie of the Week nods and one Defensive Player of the Week accolade.
Regular Season Stats
Season
Team
GP
GA
Mins
Saves
GAA
SV%
W
L
T
OTL
SOW
SOL
SOGA
SOA
SO%
SO
2013-14 Regular Season
Binghamton Senators
30
80
1571
785
3.05
0.908
15
8
0
0
1
1
2
9
0.778
0
2012-13 Regular Season
Binghamton Senators
23
46
1258
690
2.19
0.938
12
6
0
0
0
2
5
9
0.444
2
2011-12 Regular Season
Hamilton Bulldogs
44
103
2402
1098
2.57
0.914
19
17
0
0
2
4
12
31
0.613
5
2010-11 Regular Season
Bridgeport Sound Tigers
16
46
953
484
2.90
0.913
6
5
0
0
1
4
9
26
0.654
0
2009-10 Regular Season
Bridgeport Sound Tigers
36
89
2122
1058
2.52
0.922
16
16
0
0
2
3
9
28
0.679
1
2008-09 Regular Season
Bridgeport Sound Tigers
31
62
1723
793
2.16
0.927
19
9
0
0
1
2
7
13
0.462
2
Playoff Stats
Season
Team
GP
GA
Mins
Saves
GAA
SV%
W
L
T
OTL
SOW
SOL
SOGA
SOA
SO%
SO
2013 Calder Cup Playoffs
Binghamton Senators
3
8
185
76
2.60
0.905
0
3
0
0
0
0
0
0
0.000
0
2010 Calder Cup Playoffs
Bridgeport Sound Tigers
1
2
46
30
2.63
0.938
0
0
0
0
0
0
0
0
0.000
0
2009 Calder Cup Playoffs
Bridgeport Sound Tigers
2
8
123
40
3.89
0.833
0
2
0
0
0
0
0
0
0.000
0