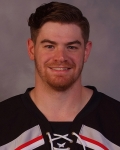 + Enlarge
30
Tom McCollum (G)
Grand Rapids Griffins
| | |
| --- | --- |
| Name: | Tom McCollum |
| Number: | 30 |
| Position: | G |
| Shoots: | L |
| | |
| --- | --- |
| Height: | 6-2 |
| Weight: | 215 |
| Birthdate: | 1989-12-07 |
| Birth place: | Sanborn, NY |
Biography
2013-14: Appeared in 46 contests with Grand Rapids in his fifth pro campaign…Produced a 24-12-4-2 record alongside a 2.30 goals against average…Enjoyed career bests in wins (24), GAA (2.30), save percentage (0.922) and minutes played (2,561)…Ranked fourth overall among AHL goaltenders with a 2.30 GAA…Named the Griffins' IOA/American Specialty Man of the Year for his contributions to the Grand Rapids community…Started the season with a six-game winning streak, just the second time in franchise history that a goalie began a season 6-0, 10/4/13-11/6/13…Accumulated an 11-6-0-1 record during a 20-game appearance streak, 12/11/13-1/25/14…Earned his first shutout of the season with a 31-save performance, 12/14/13 vs. MIL…Secured his fifth AHL shutout after turning away 35 shots, 1/17/14 vs. ABB…Blocked 20 of 24 shots before being pulled in a relief effort against the Stars, whose 59 shots are the most the Griffins have ever allowed, 1/24/14 at TEX…Played 34:17 of a relief effort in Game 6 of the Western Conference Semifinals against Texas, marking his professional playoff debut, 5/18/14.

2012-13: Won the Calder Cup with the Griffins as a fourth-year pro…Set career bests in wins (18), goals against average (2.63) and shutouts (2)…Sported an 18-11-2 record in 31 appearances…Earned his second career shutout behind 20 saves on his 23rd birthday, 12/7/12 at Chicago…Steered aside 28 shots in a shutout during his 100th game as a Griffin, 2/6/13 vs. Houston…Stopped a season-high 34 shots on 3/3/13 at Milwaukee…Won four of his five starts in March and five of six overall from 3/3/13-4/2/13…Finished the season strong with a 6-2-1 record, a 1.97 GAA and a 0.929 save percentage in his last nine appearances.

2011-12: Served as a "black ace" with Detroit during the 2012 Stanley Cup Playoffs…Began the season with ECHL Toledo, where he posted a 6-6-2 record with a team-best 2.62 goals against average and a 0.909 save percentage…Earned his first win of the season with a 37-save victory on 10/22/11 vs. South Carolina…Led the Griffins to a 4-3 overtime win, 11/29/11 at Toronto, after being recalled by the team earlier in the month…Set a new career best when he won five straight games between 11/29/11-1/7/12…Won six of seven starts, 11/23/11-1/7/12…Posted three victories in late March where he saw 40 or more shots, including a 41-save effort with six saves on seven shootout attempts, 3/20/12 at San Antonio…Named First Star after a career-high 43 saves in a 4-1 win, 3/25/12 at Oklahoma City…Set a new career high in wins (11) with a 5-4 overtime victory, 4/10/12 at Rochester…Led all Griffins goalies with 28 games played and tied for the team lead with 11 victories…Also posted a 3.49 GAA and a 0.891 save percentage.

2010-11: Served as a "black ace" with Detroit during the first round of the 2011 Stanley Cup Playoffs…Split the season between Grand Rapids and ECHL Toledo…Made his NHL debut, making five saves in a relief effort on 3/30/11 vs. St. Louis…Posted a 6-12-2 record for the Griffins with a 3.33 GAA and 0.879 save percentage…Recorded his first AHL shutout with 23 saves in a 1-0 shootout loss, 11/10/10 vs. Milwaukee…Notched a season-high 39 saves on 42 shots in a 3-2 overtime loss. 12/5/10 at San Antonio…Backstopped the Griffins to their first home win of the season with a 28-save effort, 10/30/10 vs. Manitoba…Posted an 11-9-2 record with Toledo and led the team in wins (11) and save percentage (0.909)…Tied for third in the ECHL with three shutouts…Made at least 40 saves in four of five straight outings with the Walleye, 3/4/11-3/12/11.

2009-10: Recalled by Detroit midway through the first round of the 2010 Stanley Cup Playoffs to serve as a "black ace"…Made 23 saves on 24 shots to earn a 3-1 win during his Griffins/pro debut, 10/3/09 at Peoria, becoming the youngest goalie to ever play for the Griffins (19 years, nine months)…Enjoyed a season-high four-game winning streak, during which he posted a 2.92 GAA and a 0.894 save percentage (10/24/09-11/13/09)…Made 40 saves on 43 shots and stopped five of six shooters in the shootout to lead Grand Rapids to a 4-3 win over Lake Erie, 12/11/09…Made 40 saves during a 4-3 shootout loss at Hamilton, 3/13/10...Made 25 saves on 26 shots during the Griffins' 6-1 home-finale win over Lake Erie, 4/10/10…Went 2-2 in shootouts, stopping 13 of 21 attempts (61.9%)…Registered a 2-1-0 record with a 4.48 GAA and 0.864 save percentage in four games with Toledo, 1/2/10-1/16/10.

2008-09: Named to the OHL Eastern Conference All-Star Team and earned the victory in the OHL All-Star Game, 2/4/09…Selected as an OHL Second-Team All-Star…Was runner-up for OHL Goaltender of the Year, finishing just 37 voting points behind winner Mike Murphy…Earned a 17-10-4 record with a 2.23 GAA, a 0.926 save percentage and three shutouts through 31 games with Guelph….Traded mid-season to Brampton, where he registered a 17-6-0 mark with a 1.94 GAA, a 0.929 save percentage and four shutouts through 23 outings…With his combined numbers, he paced the OHL with seven shutouts and ranked second in the league with a 2.11 GAA and a 0.927 save percentage…Tied for fourth in the OHL with 34 wins and 54 games played…Led Brampton to the OHL Finals, where it fell to Windsor in five games…Led all OHL goaltenders during the playoffs with 21 games played and 1,284 minutes played, while ranking sixth with a 2.90 GAA…Played for the United States at the World Junior Championship in Ottawa prior to joining Brampton…Received OHL Goaltender of the Month honors for January…Tied a Brampton record with a nine-game winning streak, 1/11/09-2/6/09.

2007-08: Named Guelph's Most Valuable Player after earning a 25-17-6 record with four shutouts, a 2.50 GAA and a 0.914 save percentage in 51 games…Tied for the OHL lead in shutouts and ranked among the leaders in GAA (4th), save percentage (6th), wins (8th) and games played (T5th)…Honored as the Storm's nominee for the OHL's Bobby Smith Award as the league's top academic player for the second straight season…Named an OHL Third Team All-Star for the second straight year…Selected as the OHL Goaltender of the Month for December…Registered a 1.91 GAA through 10 playoff contests with Guelph to rank second in the league.

2006-07: Named to the OHL's All-Rookie Team after posting a 26-18-10 mark and tying for the league lead with five shutouts in 55 games for Guelph…Placed among the OHL's goaltending leaders with a 2.39 GAA (2nd) and a 0.918 save percentage (4th)…Tied for eighth in the league in wins and ninth in games played…Played for the silver medal-winning United States squad at the World U18 Championship in Finland…Was a member of the OHL Western Conference All-Star Team…Named to the OHL Scholastic Team.
Regular Season Stats
Season
Team
GP
GA
Mins
Saves
GAA
SV%
W
L
OT
SOW
SOL
SOGA
SOA
SO%
SO
2014-15 Regular Season
Grand Rapids Griffins
37
87
2171
949
2.40
0.916
19
11
6
0
1
2
3
0.333
1
2013-14 Regular Season
Grand Rapids Griffins
46
98
2561
1158
2.30
0.922
24
12
-
1
4
10
25
0.600
2
2012-13 Regular Season
Grand Rapids Griffins
31
81
1846
761
2.63
0.904
18
11
-
2
2
5
18
0.722
2
2011-12 Regular Season
Grand Rapids Griffins
28
92
1580
753
3.49
0.891
11
16
-
1
0
1
7
0.857
0
2010-11 Regular Season
Grand Rapids Griffins
22
64
1152
465
3.33
0.879
6
12
-
0
2
5
10
0.500
1
2009-10 Regular Season
Grand Rapids Griffins
32
101
1741
749
3.48
0.881
10
16
-
2
2
8
21
0.619
0
Playoff Stats
Season
Team
GP
GA
Mins
Saves
GAA
SV%
W
L
OT
SOW
SOL
SOGA
SOA
SO%
SO
2015 Calder Cup Playoffs
Grand Rapids Griffins
15
38
895
413
2.55
0.916
9
6
-
0
0
0
0
0.000
0
2014 Calder Cup Playoffs
Grand Rapids Griffins
1
2
34
14
3.50
0.875
0
0
-
0
0
0
0
0.000
0