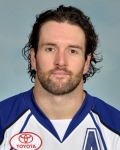 + Enlarge
24
Jean-Philippe Cote (D)
Syracuse Crunch
| | |
| --- | --- |
| Name: | Jean-Philippe Cote |
| Number: | 24 |
| Position: | D |
| Shoots: | L |
| | |
| --- | --- |
| Height: | 6-2 |
| Weight: | 214 |
| Birthdate: | 1982-04-22 |
| Birth place: | Quebec City, QC |
Biography
Draft: 2000, Toronto, Round 9 (265th overall)
Acquired: Signed an AHL Professional Tryout Contract (PTO) with Norfolk on Nov. 18, 2011

2010-11 NOTES:
Was teammates with Michel Ouellet with the Hamburg Freezers (DEL) in Germany in 2010-11…Signed a one-year contract for the 2010-11 season with the Hamburg Freezers (DEL) on 03/22/10.

CAREER NOTES:
2009-10: Signed a one-year contract for the 2009-10 season with the Kassel Huskies (DEL) on 11/06/09. 2008-09: Ranked third in plus/minus with Wilkes-Barre/Scranton (AHL) in 2008-09 (+16)…Signed to a Professional Tryout Contract (PTO) with Wilkes-Barre/Scranton on 10/08/08…Participated in 2008-09 Colorado Avalanche training camp…Ranked fourth in penalty minutes with Manitoba (AHL) in 2008-09. 2007-08: Played in 300th career AHL game on 02/01/08 with Hamilton at Manitoba…Won the 2007 Calder Cup with Hamilton (AHL). 2005-06: Made his NHL debut on 11/29/05 with Montreal at Ottawa. 2004-05: Played 100th AHL game on 01/26/05 with Hamilton vs. Rochester…Signed as a free agent by Montreal (NHL) on 08/19/04. 2003-04: Led Hamilton in plus/minus rating for two consecutive seasons (2003-04: +27, 2004-05: +14)…Led Hamilton (AHL) and was fifth overall (second among all rookies, third among all defensemen) in the AHL with a +27 rating in 2003-04…Scored first-career pro/AHL goal on 01/17/04 at Albany (Ari Ahonen)…Earned first-career pro/AHL point, an assist, on 11/02/03 vs. the Cleveland Barons…Played in first pro/AHL game 10/10/03 with Hamilton at Rochester…Signed AHL contract with Hamilton for the 2003-04 season.
JUNIOR CAREER:
2000-03: In 2002-03, finished second among Acadie-Bathurst defenseman in scoring…Named Cape Breton's Top Defenseman and MVP (2000-01).
PERSONAL:
The son of Alain Cote, who played in 696 NHL games from 1980-1989 with the Quebec Nordiques. Alain Cote also played 36 games with the Hampton Gulls (AHL) during the 1977-78 season under head coach John Brophy.
Regular Season Stats
Season
Team
GP
G
A
PTS
+/-
SOG
PIM
SOG
SOA
SOGW
SO
2014-15 Regular Season
Syracuse Crunch
5
0
1
1
4
3
38
0
0
0
0.000
2013-14 Regular Season
Syracuse Crunch
33
2
11
13
12
32
57
0
0
0
0.000
2012-13 Regular Season
Syracuse Crunch
74
3
14
17
27
91
143
0
0
0
0.000
2011-12 Regular Season
Norfolk Admirals
58
3
12
15
26
49
67
0
0
0
0.000
2008-09 Regular Season
Wilkes-Barre/Scranton Penguins
50
2
10
12
16
42
74
0
0
0
0.000
2007-08 Regular Season
Hamilton Bulldogs
79
1
12
13
3
73
112
0
0
0
0.000
2006-07 Regular Season
Hamilton Bulldogs
68
3
9
12
1
65
115
0
0
0
0.000
2005-06 Regular Season
Hamilton Bulldogs
61
3
8
11
8
45
113
0
0
0
0.000
Playoff Stats
Season
Team
GP
G
A
PTS
+/-
SOG
PIM
SOG
SOA
SOGW
SO
2013 Calder Cup Playoffs
Syracuse Crunch
18
1
5
6
15
13
29
0
0
0
0.000
2012 Calder Cup Playoffs
Norfolk Admirals
18
1
3
4
14
20
29
0
0
0
0.000
2009 Calder Cup Playoffs
Wilkes-Barre/Scranton Penguins
2
0
0
0
-1
1
2
0
0
0
0.000
2007 Calder Cup Playoffs
Hamilton Bulldogs
6
0
0
0
-1
5
2
0
0
0
0.000