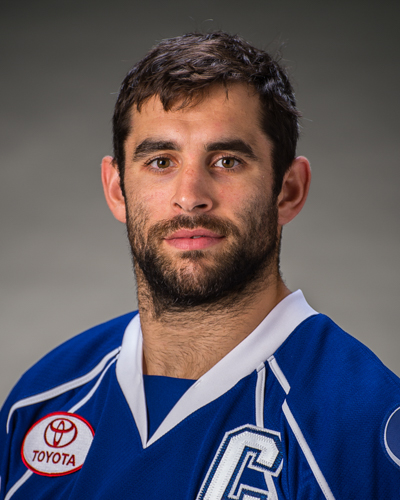 + Enlarge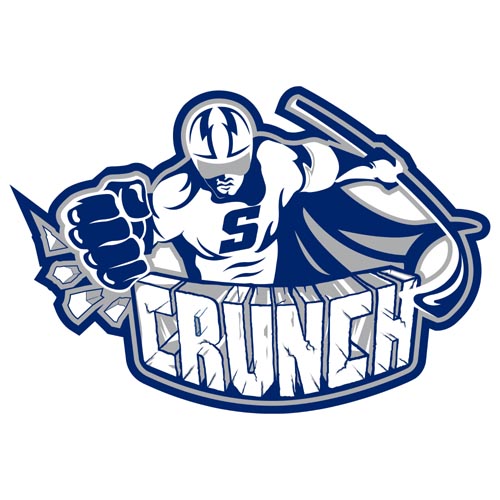 10
Mike Angelidis (C)
Syracuse Crunch
| | |
| --- | --- |
| Name: | Mike Angelidis |
| Number: | 10 |
| Position: | C |
| Shoots: | L |
| | |
| --- | --- |
| Height: | 6-1 |
| Weight: | 214 |
| Birthdate: | 1985-06-27 |
| Birth place: | Woodbridge, ON |
Biography
2013-14: First game missed Apr. 18 at RCH (illness)... Assist (21) Apr. 16 vs. ADK... Goal (12) & assist (20) Apr. 12 vs. TOR; 5th MPG... Assist (19) Apr. 5 vs. UTI... Assist (18) Apr. 2 at RCH... Assist (17) Mar. 29 vs. BNG... Goal (11), assist (16) Mar. 26 vs. STJ, 4th MPG... Assist (15) Mar. 23 at ADK, surpassing point total from 2012-13 season... 500th AHL game Mar. 15 vs. HAM... Two assists (3rd MPG) Mar. 9 vs. BNG... Fight (8), Mar. 8 vs. RCH (N. Tuzzolino)... Goal (10) Mar. 7 at RCH... Five-game scoring streak, Feb. 21-Mar. 1 (1g, 4a), season long, equaling career long (Dec. 4-12, 2009, w/ ALB, 2g, 5a)... Assist (12) Mar. 1 vs. ADK... Assist (11) Feb. 28 vs. WBS... Goal (9) Feb. 23 vs. HER, his first GWG of season... Assist (10) Feb. 22 at HER... Assist (9) and 5 SOG Feb. 21 vs. UTI... Goal (8) Feb. 13 vs. SPR... Assists in two games (7, 8) Jan. 31 at UTI, Feb. 1 vs. NOR... Second star with sixth fight (M. Cantin) and first multi-goal game with Syracuse (6, 7), ninth of his career, Jan. 26 at BRI; last was Jan. 20, 2012, with Norfolk at Syracuse... Fight (5) Jan. 25 at HER (D. Byers)... Goal (5) Jan. 17 vs. HER... Goal (4) Dec. 31 at WBS, scoring goals in back-to-back games for first time since first three games of 2012-13 season... Goal (3) Dec. 28 vs. NOR, his 10th AHL power-play goal and first with Syracuse... 500th pro game and 100th with Crunch Dec. 27 at HER... Three assists, Dec. 18 at HER... 100th professional goal Dec. 10 at STJ, his second goal in three games... First goal of season Dec. 7 vs. NOR... Fight (3), Nov. 9 vs. WBS (B. McNeil) to reach 1000 professional penalty minutes... Assist (2) Nov. 9 at NOR... Fight, Nov. 8 at NOR (J. Kurtz)... 450th career AHL game, Nov. 2 at BNG... First fight of season, Oct. 25 at UTI (Lain)... Assist on Rankin's first Crunch goal, Oct. 5 at BNG.

2012-13: 50th career Calder Cup Playoff game (+1, 4 PIM) May 29, ECF Game 3 at WBS... Fight (3) May 17, ECSF Game 4 vs. SPR (Bass); 15 PIM... Goal (2) May 11 at SPR, ECSF Game 2... Fourth career Calder Cup Playoffs goal, ECQF Game 3 at POR... Assist on Brown goal, ECQF Game 2 Apr. 28... Finished regular season with 24 points (11g, 13a) and tie for team lead w/ two shorthanded goals... Apr. 19, scored game's first goal and third star vs. NOR... Returned to Syracuse Apr. 3 after first NHL game of season Apr. 2 vs. FLA, logging 7:22 of ice time with one shorthanded shift... Recalled by Tampa Bay Apr. 1... With Syracuse: First two multi-point games of the season Mar. 15 (1g, 1a) and Mar. 16 (2a)... Game-tying goal (10) Mar. 15 vs. NOR w/ 20 seconds left to force overtime... Four points (2g, 2a) in five games Feb. 13-20... Second shorthanded goal of the season Feb. 13 at ALB... First goal in seven games Feb. 8 vs. ADK... 400th AHL regular-season game Jan. 4 at NOR... Dec. 26 goal at BNG his first in 17 games (Nov. 9)... Three-game scoring streak (3a) Dec. 9-14... Gamewinning goals Oct. 19 at ALB and Nov. 9 at HAM in Montreal. 2011-12: Played six games for Tampa Bay, one goal and five PIM…54 games with AHL-Norfolk, 14g-13a-27pts... Assisted on go-ahead goal and game-winning goals (w/ first-star honors) vs. Toronto in Game 2 of Calder Cup Finals Jun. 6... Game-winning goal in Game 3 of the Eastern Conference Semifinal on May 6 vs. CT…injured on Mar. 11 at BRI and missed the final 13 games of the regular season before returning for Game 1 of the ECQF Apr. 20 vs. Manchester…Recorded a pair of assists for the #2 star on 3/3/12 against Springfield…scored a goal and was named #3 star on 3/2/12 against Springfield…played on loan with Tampa Bay Feb. 28-Mar. 1, appearing in one game…recalled on loan with Tampa Bay previously Feb. 21-27, where he played four games and recorded five PIM…made NHL debut with Tampa Bay on Jan. 24 vs. Columbus and scored first career goal on his first career shot…scored twice Jan. 20 at SYR... GWG Jan. 18 at ALB…recorded a goal in his 350th career AHL game Jan. 14 vs. CT…injured Dec. 2 vs. ADK and missed four games… Appeared in his 100th game with Norfolk Nov. 25 vs. PRO... Gordie Howe hat trick Nov. 23 vs. CHA…named Norfolk team captain Oct. 14

2010-11: Led Norfolk with +18 and 169 PIM…set AHL career highs with 20 goals, 18 assists, 38 points, 169 PIM in 80 regular season games... shorthanded GWG, Mar. 23 vs. ADK... Goal & assist for #1 star on Mar. 9 vs. BNG…surpassed his AHL career high with his 28th point (assist) on Feb. 5 vs. BNG…tied personal AHL high with his 15th goal Jan. 29 vs. SPR…Two goals and assist for #2 star Dec. 30 vs. CHA.. Named alternate captain for road games Dec. 17... Goal and assist for #2 star Dec. 10 vs. WBS... Game-tying goal with 33 seconds remaining Dec. 4 at POR... Tied a Norfolk record with a five point night (2g, 3a) and also set personal AHL career highs in assists and points in a game while tying his personal AHL high for goals in a game, also going +5 and earning the #1 star on Dec. 3 at MCH… tied AHL career high with two goals and three points and was +4 for #1 star on 11/28/10 at SPR…recorded a goal and was named #2 star on 11/20/10 vs. ADK…scored a goal in his Norfolk debut on 10/9/10 at BNG…2009-10: Ranked fourth in PIM with Albany (AHL) with 119 PIM…played 67 games, scoring 12 goals and 12 assists for 24 points…scored his 50th professional goal on 3/28/10 at Springfield…recorded his 100th career professional point (goal) on 3/21/10 vs. BNG…appeared in his 250th career professional game on 3/19/10 at Hershey…appeared in his 200th career AHL game on 1/17/10 at Providence…had a career high five-game point streak from 12/4/09 to 12/12/09 (2G, 4A)…suffered upper-body injury on 10/3/09 against Manchester, missed 11 games…

2008-09: Played 67 games with Albany (AHL), registering 15 goals and 10 assists for 25 points…also led the team with 142 PIM…recorded his 50th career AHL point with an assist on 1/14/09 at Hershey…

2007-08: Played 74 games with Albany (AHL), scoring 11 goals and 16 assists for 27 points…ranked 2nd in PIM with 151…

2006-07: Played 27 games with Albany (AHL), tallying four goals and five assists for nine points…made his AHL debut on 12/30/06 vs. Hershey…played 24 games with Florida (ECHL), scoring 10 goals and eight assists for 18 points…recorded a hat trick on 11/17/06 vs. Pensacola…scored his first pro/ECHL goal on 11/1/06 at Cincinnati…made pro/ECHL debut and recorded first pro/ECHL point/assist on 10/20/06 vs. Texas.

Other: Played juniors for Owen Sound (OHL)…ranked third in the OHL in goals (53) in 2005-06…2005-06 OHL All-Star… 2005-06 Dan Snyder Humanitarian of the Year…2005- 06 OHL Western Conference Most Improved Player.
Regular Season Stats
Season
Team
GP
G
A
PTS
+/-
SOG
PIM
SOG
SOA
SOGW
SO
2015-16 Regular Season
Syracuse Crunch
53
7
8
15
-10
90
75
0
0
0
0.000
2014-15 Regular Season
Syracuse Crunch
64
20
18
38
2
105
138
0
1
0
0.000
2013-14 Regular Season
Syracuse Crunch
75
12
21
33
-7
125
161
0
2
0
0.000
2012-13 Regular Season
Syracuse Crunch
71
11
13
24
3
133
158
0
0
0
0.000
2011-12 Regular Season
Norfolk Admirals
54
14
13
27
14
92
135
0
0
0
0.000
2010-11 Regular Season
Norfolk Admirals
80
20
18
38
18
164
169
0
1
0
0.000
2009-10 Regular Season
Albany River Rats
67
12
12
24
-8
114
119
0
0
0
0.000
2008-09 Regular Season
Albany River Rats
67
15
10
25
-1
145
142
0
0
0
0.000
2007-08 Regular Season
Albany River Rats
74
11
16
27
5
118
151
0
0
0
0.000
2006-07 Regular Season
Albany River Rats
27
4
5
9
-4
39
44
0
0
0
0.000
Playoff Stats
Season
Team
GP
G
A
PTS
+/-
SOG
PIM
SOG
SOA
SOGW
SO
2015 Calder Cup Playoffs
Syracuse Crunch
3
0
1
1
-5
5
6
0
0
0
0.000
2013 Calder Cup Playoffs
Syracuse Crunch
18
2
4
6
4
34
49
0
0
0
0.000
2012 Calder Cup Playoffs
Norfolk Admirals
18
1
5
6
4
26
35
0
0
0
0.000
2011 Calder Cup Playoffs
Norfolk Admirals
3
0
0
0
-1
4
2
0
0
0
0.000
2010 Calder Cup Playoffs
Albany River Rats
8
2
4
6
3
13
12
0
0
0
0.000
2008 Calder Cup Playoffs
Albany River Rats
7
0
2
2
1
9
6
0
0
0
0.000
2007 Calder Cup Playoffs
Albany River Rats
4
0
0
0
-2
4
10
0
0
0
0.000