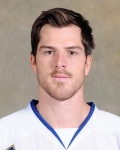 + Enlarge

6
Bobby Sanguinetti (D)
Utica Comets
| | |
| --- | --- |
| Name: | Bobby Sanguinetti |
| Number: | 6 |
| Position: | D |
| Shoots: | R |
| | |
| --- | --- |
| Height: | 6-3 |
| Weight: | 190 |
| Birthdate: | 1988-02-29 |
| Birth place: | Trenton, NJ |
Biography
2012-13: Scored his first goal of the year in the Checkers second game of the season vs. Texas (10/14)
2011-12: Concluded his fourth professional season and second with the Carolina organization ... Set new career highs in goals (10) assists (40) and points (50) as he led all Checkers defensemen and ranked second on the team in scoring despite missing 16 games ... Ranked third among AHL defensemen in points and assists ... Ranked second among AHL defensemen and second on the team in power-play points (30) and assists (23) ... Ranked third on the team with seven power-play goals ... Scored 44 points (10g, 34a) in his last 44 games ... Recorded at least one point in 11 of his last 12 games (3g, 15a) ... Set a personal and team record with an 11-game point streak from Jan. 12 to Feb. 10 (5g, 10a) that marked the fourth-longest streak by any AHL player during the season and the longest by an AHL defenseman since the 2008-09 season ... Played three games at the NHL level and posted an even plus/minus rating with five shots on goal ... Recorded two assists and five shots on goal in the season opener at NOR (10/7) ... Set up Matthew Pistilli's game winner with 44 seconds left at OKC (10/28) ... Had the primary assist on Justin Soryal's game winner at OKC (11/12) ... Assisted on both Checkers goals in a 3-2 shootout loss to OKC on 12/18, giving him four point in four games since returning from a broken foot ... Scored his first goal of the season and added an assist vs. GR (1/17), giving him five points during a three-game point streak ... Had his second consecutive multi-point game (1g, 1a) at ABB (1/20) ... After starting the season with no goals in his first 29 games, found the back of the net for the third game in a row at ABB (1/12) ... Helped set up Sean Dolan's goal at MIL (2/10), extending his career-high point streak to 11 games ... Had a three-point night (1g, 2a) and was plus-3 vs. CHI (3/11) ... Recalled to Carolina on 3/12 and made his Hurricanes debut at NYR on 3/13 ... Returned to Charlotte on 3/16 after playing two games with Carolina ... Recalled to Carolina on 3/17 ... Returned to Charlotte on 3/19 after playing one NHL game with Carolina ... Assisted on both Charlotte goals in a 3-2 shootout loss at HER (3/25) to extend his point streak to six games ... Tied his personal career high and a team record with four points (1g, 3a) and was plus-5 vs. PEO (4/13) ... Had an assist at MIL (4/15) to end the season on a five-game point streak ... Games missed due to injury: 14 (lower body: 11/18-12/9; upper body: 3/30-4/5 ... Was a healthy extra for one game (1/4) ... Missed one game due to NHL recall (3/18) ... Longest goal streak: 3 games (1/17-1/21: 3g, 2a) ... Longest assist streak: 5 games (4/8-4/15: 1g, 7a) ... Longest point streak: 11 games (1/12-2/10: 5g, 10a) ... Multi-assist games: 8 (10/7, 12/18, 1/12, 1/24, 3/11, 3/16, 3/25, 4/13) ... Multi-point games: 11 (10/7, 12/18, 1/12, 1/17, 1/20, 1/24, 3/3, 3/11, 3/16, 3/25).
2010-11: Completed his third full professional season, spending the majority of the season with Charlotte ... Totaled 15 points (3g, 12a) in 31 AHL games for the Checkers, with six of his 15 points coming on the power play... Began the season in the NHL with the Hurricanes, accompanying the team to Russia and Finland, but did not appear in either game against Minnesota at the 2010 NHL Premiere in Helsinki... Assigned to Charlotte on 10/10, and earned a pair of assists vs. Bridgeport (10/11)... Scored the overtime game-winner vs. Adirondack (11/19)... Missed 47 consecutive games due to injury before returning to action at Bridgeport (3/16) ... Earned a pair of assists in 10 Calder Cup Playoff games as the Checkers advanced to the Eastern Conference Final before falling to Binghamton.
2009-10: Completed his second full professional season with HFD (AHL) recording a career high in goals with nine (9)...Finished the season tied for the lead amongst all Wolf Pack defenseman in points with 38…Recorded season-high four points (2g, 2a) on 10/31 vs. PRO…Made NHL debut at T.B. on 11/27...Played five games with the New York Rangers recording four penalty minutes…represented HFD in the AHL All-Star Game, playing for Planet USA and recording one assist.
2008-09: Led Hartford defensemen in points and assists (6g, 36a, 42pts in 78 GP), and set Wolf Pack single-season rookie record for assists by a blueliner…Ranked tied for fifth among AHL rookies in regular-season assists, and tied for 11th in points (42) among league defensemen…Named to Planet USA team for 2009 AHL All-Star Classic.
Juniors: completed four-year junior career in the OHL in the 2007-08 season, finishing with 70 goals and 142 assists (212 points) in 263 games with Owen Sound and Brampton...Best season came in 2007-08 when he scored 29 goals and added 41 assists for 70 points in 61 games...He was named OHL Defenseman of the month in February...Sanguinetti finished the season leading the Battalion in points and ranked second amongst OHL defensemen in points... In 25 playoff games in the OHL, he scored 9 goals and assisted on 18 more.
Miscellaneous: Registered his first career professional points, two assists, on April 8, 2007, vs. ALB…Represented the USA at the World Junior Hockey Championships in the Czech Republic in 2008, registering three points (1g, 2a) in six games.
Regular Season Stats
Season
Team
GP
G
A
PTS
+/-
SOG
PIM
SOG
SOA
SOGW
SO
2014-15 Regular Season
Utica Comets
61
16
24
40
24
138
16
1
1
1
1.000
2012-13 Regular Season
Charlotte Checkers
36
6
15
21
1
99
16
0
1
0
0.000
2011-12 Regular Season
Charlotte Checkers
60
10
40
50
-12
125
20
0
2
0
0.000
2010-11 Regular Season
Charlotte Checkers
31
3
12
15
0
55
6
0
0
0
0.000
2009-10 Regular Season
Hartford Wolf Pack
61
9
29
38
-9
108
22
0
0
0
0.000
2008-09 Regular Season
Hartford Wolf Pack
78
6
36
42
-8
147
42
1
4
0
0.250
2007-08 Regular Season
Hartford Wolf Pack
6
0
1
1
2
10
2
0
0
0
0.000
2006-07 Regular Season
Hartford Wolf Pack
5
0
3
3
0
19
2
0
0
0
0.000
Playoff Stats
Season
Team
GP
G
A
PTS
+/-
SOG
PIM
SOG
SOA
SOGW
SO
2015 Calder Cup Playoffs
Utica Comets
15
2
7
9
1
47
4
0
0
0
0.000
2011 Calder Cup Playoffs
Charlotte Checkers
10
0
2
2
-4
13
6
0
0
0
0.000
2009 Calder Cup Playoffs
Hartford Wolf Pack
6
1
4
5
-1
18
6
0
0
0
0.000
2008 Calder Cup Playoffs
Hartford Wolf Pack
5
0
0
0
-4
6
2
0
0
0
0.000
2007 Calder Cup Playoffs
Hartford Wolf Pack
7
0
1
1
1
10
2
0
0
0
0.000