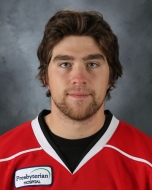 + Enlarge
25
Chris Terry (LW)
Charlotte Checkers
| | |
| --- | --- |
| Name: | Chris Terry |
| Number: | 25 |
| Pos.: | LW |
| Shoots: | L |
| | |
| --- | --- |
| Height: | 5-10 |
| Weight: | 197 |
| Birthdate: | 1989-04-07 |
| Birthplace: | Brampton, ON |
Biography
2012-13: Scored his first goal of the season in the Checkers opener vs. Houston (10/13)…Received his first assist of the season vs. Texas (10/14)
2011-12: Concluded his third professional season, all with the Hurricanes organization ... Led the Checkers with 59 points and a career-high 43 assists and finished fourth on the team with 16 goals ... Finished the season ranked 8th in AHL assists and tied for 21st in AHL scoring ... Ranked second on the team with 201 shots ... Led the team in points (26) and assists (23) on the power play ... Tied for the team lead with three game-winning goals ... Ranked third on the team with a career-high 67 penalty minutes ...Tied for fifth in AHL shootout goals with six in 12 attempts and tied for first in the league with three game winners ... Had three point streaks of five or more games, including two career-best, eight-game streaks that ended 11/30 (2g, 9a) and 1/27 (4g, 11a) ... Picked up an assist in the season opener at NOR (10/7) ...Scored his first two goals of the season, including the game winner, at SA (10/29) ... Notched three assists at NOR (11/23) to extend his point streak to five games ... Scored a goal for the second consecutive game and added an assist vs. MIL (11/27) to extend his point streak to seven games ... Scored his third career shorthanded goal and assed an assist vs. LE (12/4) ... Scored in regulation and added the shootout winner vs. RFD (12/30) ... Had his second multi-goal game of the season vs. GR (1/17) to extend his point streak to three games... Had four assists at ABB (1/20), setting new personal records and tying team records for most points and assists in a single game ... Recorded four consecutive multi-point games from 1/17 to 1/24 (2g, 8a), extending his overall point streak to six games ... Scored the game-winning goal and added an empty-net tally at GR (3/30), extending his point streak to five games ...Posted his third point streak of six or more games with two assists at PEO (3/31) ... Missed two games due to suspension (11/11-11/12) ...Longest goal streak: 3 games (1/12-1/17: 4g, 1a) ...Longest assist streak: 5 games (11/6-11/23: 0g, 7a) ... Longest point streak: 8 games (11/6-11/30: 2g, 9a; 1/12-1/27: 4g, 11a) ...Multi-goal games: 3 (10/29, 1/17, 3/30) ... Multi-assist games: 5 (11/23, 1/20, 1/21, 1/24, 3/31) ... Multi-point games: 14 (10/29, 11/23, 11/27, 12/4, 1/12, 1/17, 1/20, 1/21, 1/24, 2/24, 3/21, 3/30, 3/31, 4/13).
2010-11: Completed his second AHL season, ranking first among Charlotte skaters and third in the league with 34 goals... His 34 goals led all AHL Eastern Conference players... Was second on the team in points (64), fifth in assists (30), tied for second in power-play goals (10) and tied for first in shorthanded goals (2)...Skated in all 80 regular-season games for the second consecutive season...Earned his first of three multi-goal games with two goals vs. Portland (11/2)... Netted the game-winning goal in Charlotte...s first AHL home win, vs. Portland (11/3)... Had a seven-game point streak from 11/2-11/11 (5g, 4a)... Earned a season-high three assists vs. Syracuse (12/6)... Totaled 12 points (7g, 5a) in 13 games in March...Skated in all 16 of Charlotte's Calder Cup Playoff games, as the Checkers advanced to the Eastern Conference Final, ranking tied for first on the team with six playoff goals... Was first among Charlotte skaters with four points during the Eastern Conference Final series vs. Binghamton.
2009-10: Ranked second on Albany in scoring during rookie season, totaling 47 points (17g, 30a) in 80 games and second in plus/minus (+12)…One of two Albany skaters to play in all 80 regular season games…Attended Carolina (NHL) training camp…Scored first pro goal in Albany's season opener vs. MCH (10/3)…Recorded seven-game point streak (5g, 5a) from 2/26-3/10.
2008-09: Led Plymouth and ranked second in the OHL in scoring with 94 points (39g, 55a) in 53 games...Was the OHL's recipient of the Dan Snyder Memorial Trophy as the league's humanitarian of the year...Was also named the first-ever winner of the Mickey Renaud Captain's Trophy for leadership on and off the ice...Served as Plymouth's team captain and earned the team's MVP and Academic Player of the Year awards... Also named an OHL Third Team All-Star... Was named OHL Player of the Week on 3/30...Was the OHL Player of the Month for December and February... Represented the Western Conference at the 2009 OHL All-Star Classic in Windsor...Was named to the Canadian team for the ADT Canada-Russia Challenge.
Juniors: Completed junior hockey career with 289 points (114g, 175a) and 352 penalty minutes in 253 games with the Plymouth...Was teammates with fellow Hurricanes draft picks Brett Bellemore and Michal Jordan in Plymouth…Ranks third on Plymouth's all-time scoring list (289 points)...Is third in Plymouth franchise history in assists (175) and fourth in goals (114) and games played (253)...Holds Plymouth's franchise record for consecutive regular-season games played at 168 games (1/5/06-3/16/08)…Was named Plymouth's Rookie of the Year in 2005-06 after tallying nine goals and 19 assists (28 points) in 64 games…Named OHL Academic Player of the Month for October 2006 in the West Division…Became the 14th player in Plymouth's history to record a 100-point season, notching 44 goals and 57 assists (101 points) to lead the Whalers in scoring in 2007-08…Represented the Western Conference in the 2008 OHL All-Star Classic in Sault Ste. Marie.
Miscellaneous: Made his pro debut vs. NOR (04/09/08)...Signed a three-year entry level deal with the Hurricanes (05/29/09)...Scored first career goal vs. MCH (10/3/09)
Regular Season Stats
Season
Team
GP
G
A
PTS
+/-
SOG
PIM
SOG
SOA
SOGW
SO
2012-13 Regular Season
Charlotte Checkers
70
25
35
60
1
186
40
2
6
1
0.333
2011-12 Regular Season
Charlotte Checkers
74
16
43
59
-15
201
67
6
12
3
0.500
2010-11 Regular Season
Charlotte Checkers
80
34
30
64
-4
213
52
4
11
1
0.364
2009-10 Regular Season
Albany River Rats
80
17
30
47
12
132
47
3
8
0
0.375
2007-08 Regular Season
Albany River Rats
1
0
0
0
0
1
0
0
0
0
0.000
Playoff Stats
Season
Team
GP
G
A
PTS
+/-
SOG
PIM
SOG
SOA
SOGW
SO
2013 Calder Cup Playoffs
Charlotte Checkers
5
2
2
4
-3
15
8
0
0
0
0.000
2011 Calder Cup Playoffs
Charlotte Checkers
16
6
3
9
-7
50
14
0
0
0
0.000
2010 Calder Cup Playoffs
Albany River Rats
8
2
4
6
-5
13
0
0
0
0
0.000