+ Enlarge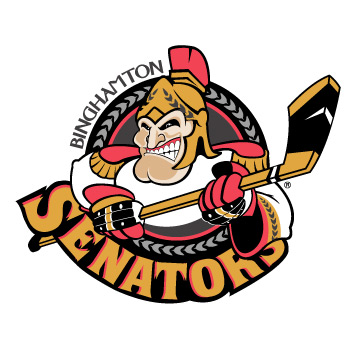 31
Peter Mannino (G)
Binghamton Senators
| | |
| --- | --- |
| Name: | Peter Mannino |
| Number: | 31 |
| Position: | G |
| Shoots: | L |
| | |
| --- | --- |
| Height: | 6-1 |
| Weight: | 195 |
| Birthdate: | 1984-02-17 |
| Birth place: | Farmington Hills, MI |
Biography
2012-13: Played in 20 games with the Manchester Monarchs (AHL), going 10-7-0 with a GAA of 2.47 and a save percentage of .919.
2011-12: Started the season with St. John's (AHL) and backstopped 10 games, registering a 4-5-0 record, a 2.77 goals against average and a save percentage of .909…Traded to Portland (AHL) where he took part in 15 contests, posting a record of 8-6-1, a 3.44 GAA and a save percentage of .895…Also notched a record of 10-8-4 with the Chicago Express (ECHL) while taking part in 22 games…Saw one period of action with Winnipeg (NHL).
2010-11: In 42 games with the Chicago Wolves (AHL) he etched a record of 16-17-4… Also played two games with Atlanta (NHL).
2009-10: Put up record of 26-5-1, a 2.34 GAA and .921 save percentage over 38 games with the Chicago Wolves (AHL)…Recorded two shutouts… Saw time in 12 playoff games with Chicago, going 6-5. .
2008-09: In his first professional season, competed in 34 contests with Bridgeport (AHL), collecting a record of 17-12-2 with a 2.94 GAA and a .900 save percentage.…Had a four-game win streak between 10/19/08 and 11/1/08…While with the Utah Grizzlies (ECHL) he amassed four wins in nine games and had a save percentage of .918… Earne win in his first NHL start with the New York Islanders on 3/15/09, a 4-2 victory against Chicago.
OTHER: With four seasons played with the University of Denver he posted a winning record of 61-32-5…Led the Pioneers to the 2005 NCAA Championship while earning Most Valuable Players honors at the Frozen Four…During his stint with the Pioneers he led the team three times in save percentage…Spent the 2003-04 season with the Tri-City Storm (USHL) and held a record of 26-7…Helped team to 2004 Anderson Cup.
Regular Season Stats
Season
Team
GP
GA
Mins
Saves
GAA
SV%
W
L
OT
T
OTL
SOW
SOL
SOGA
SOA
SO%
SO
2014-15 Regular Season
Binghamton Senators
21
81
1220
665
3.99
0.891
6
10
4
0
4
0
0
0
0
0.000
0
2014-15 Regular Season
Portland Pirates
3
5
128
57
2.34
0.919
0
1
-
0
0
0
0
0
0
0.000
0
2013-14 Regular Season
Wilkes-Barre/Scranton Penguins
18
27
1036
372
1.56
0.932
11
4
-
0
0
0
1
1
5
0.800
4
2012-13 Regular Season
Manchester Monarchs
20
44
1069
498
2.47
0.919
10
7
-
0
0
1
0
1
4
0.750
0
2011-12 Regular Season
Portland Pirates
15
49
854
417
3.44
0.895
8
6
-
0
0
1
1
2
8
0.750
0
2011-12 Regular Season
St. John's IceCaps
10
27
585
271
2.77
0.909
4
5
-
0
0
0
0
0
0
0.000
1
2010-11 Regular Season
Chicago Wolves
42
116
2232
957
3.12
0.892
16
17
-
0
0
1
4
8
23
0.652
0
2009-10 Regular Season
Chicago Wolves
38
79
2026
915
2.34
0.921
26
5
-
0
0
3
1
7
22
0.682
2
2008-09 Regular Season
Bridgeport Sound Tigers
34
96
1959
865
2.94
0.900
17
12
-
0
0
2
2
7
18
0.611
1
Playoff Stats
Season
Team
GP
GA
Mins
Saves
GAA
SV%
W
L
OT
T
OTL
SOW
SOL
SOGA
SOA
SO%
SO
2014 Calder Cup Playoffs
Wilkes-Barre/Scranton Penguins
17
47
1050
421
2.69
0.900
9
8
-
0
0
0
0
0
0
0.000
0
2010 Calder Cup Playoffs
Chicago Wolves
12
34
653
272
3.12
0.889
6
5
-
0
0
0
0
0
0
0.000
2
2009 Calder Cup Playoffs
Bridgeport Sound Tigers
3
10
189
65
3.18
0.867
1
2
-
0
0
0
0
0
0
0.000
0