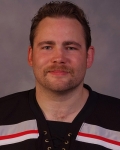 + Enlarge
23
Triston Grant (LW)
Grand Rapids Griffins
| | |
| --- | --- |
| Name: | Triston Grant |
| Number: | 23 |
| Position: | LW |
| Shoots: | L |
| | |
| --- | --- |
| Height: | 6-1 |
| Weight: | 221 |
| Birthdate: | 1984-02-02 |
| Birth place: | Neepawa, MB |
Biography
2012-13: Won the Calder Cup with the Griffins…Appeared in a career-high 75 games, recording 10 points (4-6—10) and a team-high 196 penalty minutes during the regular season…Chipped in four points (2-2—4) and 26 penalty minutes in 24 playoff games…Scored his first goal as a Griffin on 10/19/12 at Rochester…Recorded three points (1-2—3) in a four-game stretch, 11/9/12-11/16/12…Matched a franchise record for penalty minutes in one game with 34 on 1/9/13 at Rockford…Skated in his 500th professional game on 3/3/13 at Milwaukee and his 500th AHL game on 3/29/13 at Houston…Recorded three (2-1—3) of his four postseason points in the Calder Cup Finals.

2011-12: Helped Oklahoma City to a regular season Western Conference championship, joining the team in early October on a tryout before signing a one-year contract in December…Recorded 15 points (11-4—15) in 53 games for the Barons…Paced the team with 163 penalty minutes and finished seventh in goals…Tied for 17th in the AHL in penalty minutes and was one of two players (along with Norfolk's Radko Gudas) in the league to have more than 150 penalty minutes and a double-digit plus-minus rating…Scored two goals and was a team-best plus-four in his second game with the Barons, 10/15/11 vs. Texas…Set a career high with a four-game point streak,11/25/11-12/3/11…Scored four goals over a six-game span, 12/10/11-12/27/11…Skated in seven playoff games with the Barons, recording 29 penalty minutes…Set a new career high with 27 penalty minutes, 5/18/12 vs. Toronto.

2010-11: Appeared in 56 games with Rochester, totaling 13 points (7-6—13) and 144 penalty minutes, which ranked second on the team…Tied for fifth on the Amerks with two game-winning goals…Set a new career best with an early-season three-game point streak, picking up three points (1-2—3), 10/10/10-10/16/10…Reached 1,000 AHL penalty minutes, 10/17/10 vs. Adirondack…Was briefly a teammate of current Griffin Nathan Paetsch.

2009-10: Bested his career highs with 74 games played, 12 goals, 13 assists, 25 points and 236 penalty minutes, which ranked ninth in the AHL…Ranked among Milwaukee's leaders in games played (T6th), goals (8th), plus-minus (plus-10, T9th) and penalty minutes (1st)…Had his first-ever multi-assist game, 2/28/10 at Peoria, and had another in one of his five postseason games, 4/23/10 vs. Chicago…Recalled by Nashville in early October and played his first NHL game in nearly three years, 10/8/09 vs. Colorado…Recorded nine penalty minutes and two shots in three games with the Predators.

2008-09: Logged 55 games for the West Division-champion Milwaukee Admirals, chipping in 11 points (3-8—11) and 153 penalty minutes…Placed second on the team in penalty minutes and third with a plus-11 rating…Was one of just four players in the AHL to post more than 150 penalty minutes and a double-digit plus-minus rating…Contributed two points (1-1—2) and 12 penalty minutes in 11 playoff games.

2007-08: Nearly doubled his previous career highs by recording 21 points (10-11—21) in his third season with the Phantoms…Led the team with 181 penalty minutes and ranked among team leaders with 10 goals (8th), 21 points (T10th), a plus-nine rating (4th) and one shorthanded goal (T2nd)…Surpassed 500 AHL penalty minutes, 1/26/08 at Bridgeport…Registered two assists and 34 penalty minutes in 12 postseason games.

2006-07: Tallied 11 points (5-6—11) in 61 games with the Phantoms…Led the club and placed 12th in the AHL with 199 penalty minutes…Named first star and scored two goals for his first professional multi-point game, 12/17/06 vs. Toronto…Was called up early in the season by the parent Flyers and made his NHL debut, 10/26/06 vs. Atlanta…Recorded his first NHL point with an assist, 11/15/06 at Anaheim…Appeared in eight total NHL games, recording one point and 10 penalty minutes.

2005-06: Skated in 64 games for the Philadelphia Phantoms as a first-year pro, recording five points (2-3—5) and 190 penalty minutes, which ranked fifth on the team…Notched an assist in his first professional game, 10/8/05 vs. Binghamton…Scored his first professional goal, 11/4/05 vs. Hershey…Had a season-high 22 penalty minutes, 1/7/06 at Wilkes-Barre/Scranton.

2004-05: Set career highs in all offensive categories during his final season of junior with 32 points (20-12—32) in 70 games…Placed among team leaders with 20 goals (4th), 32 points (6th) and 193 penalty minutes (2nd)…Had four multi-point games over a five-game stretch, totaling eight points (5-3—8), 10/5/04-10/15-04.

2003-04: Ranked second in the WHL with 267 penalty minutes…Logged 69 games for Vancouver, recording 18 points (10-8—18)…Tied for seventh on the team in goals…Appeared in 11 postseason games with the Giants, recording two points (1-1—2) and 33 penalty minutes.

2002-03: Played in all 72 games with Vancouver and recorded 20 points (10-10—20) and 200 penalty minutes…Led the team in penalty minutes and tied for ninth in goals…Scored in back-to-back games to start the season, 9/19/03-9/20/03…Recorded a hat trick, 11/12/03 vs. Everett.

2001-02: Split the season between Lethbridge and the expansion Vancouver Giants, totaling 15 points (10-5—15) and 163 penalty minutes in 57 total games…Spent the first 36 games of the season with the Hurricanes, contributing nine points (8-1—9)…Finished third on Lethbridge with 110 penalty minutes despite a midseason trade…Picked up six points (2-4—6) and 53 penalty minutes in 21 games with the Giants.

2000-01: Debuted in the WHL with the Lethbridge Hurricanes as a 16-year-old…Scored two goals and ranked ninth on the team with 75 penalty minutes despite being limited to 23 games played…Skated in five postseason contests.
Regular Season Stats
Season
Team
GP
G
A
PTS
+/-
SOG
PIM
SOG
SOA
SOGW
SO
2014-15 Regular Season
Milwaukee Admirals
73
13
13
26
-7
134
123
0
0
0
0.000
2013-14 Regular Season
Grand Rapids Griffins
51
6
10
16
6
69
103
0
0
0
0.000
2012-13 Regular Season
Grand Rapids Griffins
75
4
6
10
1
57
196
0
0
0
0.000
2011-12 Regular Season
Oklahoma City Barons
53
11
4
15
15
69
163
0
0
0
0.000
2010-11 Regular Season
Rochester Americans
56
7
6
13
-11
73
144
0
0
0
0.000
2009-10 Regular Season
Milwaukee Admirals
74
12
13
25
10
113
236
0
0
0
0.000
2008-09 Regular Season
Milwaukee Admirals
55
3
8
11
11
74
153
0
0
0
0.000
2007-08 Regular Season
Philadelphia Phantoms
72
10
11
21
9
98
181
0
0
0
0.000
2006-07 Regular Season
Philadelphia Phantoms
61
5
6
11
5
76
199
0
0
0
0.000
2005-06 Regular Season
Philadelphia Phantoms
64
2
3
5
-8
44
190
0
0
0
0.000
Playoff Stats
Season
Team
GP
G
A
PTS
+/-
SOG
PIM
SOG
SOA
SOGW
SO
2014 Calder Cup Playoffs
Grand Rapids Griffins
4
0
0
0
0
4
4
0
0
0
0.000
2013 Calder Cup Playoffs
Grand Rapids Griffins
24
2
2
4
3
15
26
0
0
0
0.000
2012 Calder Cup Playoffs
Oklahoma City Barons
7
0
0
0
-1
10
29
0
0
0
0.000
2010 Calder Cup Playoffs
Milwaukee Admirals
5
0
2
2
2
7
16
0
0
0
0.000
2009 Calder Cup Playoffs
Milwaukee Admirals
11
1
1
2
2
19
12
0
0
0
0.000
2008 Calder Cup Playoffs
Philadelphia Phantoms
12
0
2
2
-2
5
34
0
0
0
0.000