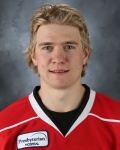 + Enlarge

20
Zac Dalpe (C)
Utica Comets
| | |
| --- | --- |
| Name: | Zac Dalpe |
| Number: | 20 |
| Position: | C |
| Shoots: | R |
| | |
| --- | --- |
| Height: | 6-1 |
| Weight: | 189 |
| Birthdate: | 1989-11-01 |
| Birth place: | Paris, ON |
Biography
2011-12: Completed his second professional season and second with the Checkers … Finished third on the Checkers in goals (18) and fifth in points (32) in just 56 games played … Ranked fourth on the team with six power-play goals … Was third on Charlotte with a career-high 183 shots on goal … Led the team with two shorthanded goals … Took just 17 penalty minutes, the second lowest of any Checker that played in 50 or more games … Played a career-high 16 NHL games with Carolina, scoring three points (1g, 2a) … Reassigned to Charlotte and made his season debut with the Checkers at MIL (11/4) after starting the season in the NHL … Recalled to Carolina on 11/7 … Returned to Charlotte on 11/17 … Notched a goal and an assist and took a game-high seven shots on goal in his third AHL game of the season vs. RFD (11/18) … Recalled to Carolina on 11/19 and returned to the Checkers two days later on 11/21 … Opened the scoring just 4:23 into the first period of the Checkers' win vs. TEX (11/30) … Recorded his only multi-assist game of the season with two helpers vs. CHI (12/16) … Scored Charlotte's first goal just 2:05 into the overtime loss vs. OKC (12/20) … Recalled to Carolina on 12/27 … Recorded his first NHL points of the season with a one-goal, one-assist performance vs. TOR (12/29) – his first career multi-point game at the NHL level … Returned to the Checkers on 1/4 … Notched two goals for his only multi-goal game of the season at MIL (1/7) … Scored the third shorthanded goal of his career and first of the season at CHI (1/8) … Scored the game-winning goal and added an assist in the 6-5 win vs. GR (1/17), extending his season-best point streak to six games (5g, 3a) … Recalled to Carolina on 1/19 … Set up Carolina's only goal of the game, a Jeff Skinner tally at NYI (1/21) … Reassigned to Charlotte on 1/24 … Scored his 10th goal of the season, a power-play tally vs. RFD (1/26) … Notched the Checkers' only overtime-winning goal of the season and second goal in as many games at MIL (2/10) … Took five shots and recorded the second fighting major of his AHL career vs. NOR (2/12) … Tallied his 13th goal of the season just 53 seconds into the Checkers' win at PEO (2/17) … Scored his team-leading second shorthanded goal of the season vs. CHI (3/10) … Notched a goal and an assist and took a career-high 10 shots on goal, the most by any Checkers player in a single game during the season, vs. CHI (3/11) … Scored his 17th goal of the season and took eight shots at HER (3/25) … Missed 20 AHL games after starting the season in the NHL and being recalled four subsequent times (10/7-11/2; 11/7-11/17; 11/19-11/21; 12/17-1/4; 1/19-1/24) … Longest goal streak: 2 games (11/18-11/23: 2g, 1a; 1/7-1/8: 3g, 0a; 1/15-1/17: 2g, 1a; 2/4-2/10: 2g, 0a; 3/10-3/11: 2g, 1a) … Longest assist streak: 2 games (1/11-1/12: 0g, 2a; 2/19-2/24: 0g, 2a; 4/5-4/7: 0g, 2a) … Longest point streak: 6 games (1/7-1/17: 5g, 3a) … Multi-goal games: 1 (1/7) … Multi-assist games: 1 (12/16) … Multi-point games: 5 (11/18, 12/16, 1/7, 1/17, 3/11).
2010-11: Completed his first full professional season with the Checkers... Totaled 23 goals and 34 assists (57 points) in 61 games and was named to the AHL's All-Rookie Team… Skated in 15 games for the Hurricanes, totaling four points (3g, 1a)… Was third among AHL rookies in scoring, and led the Checkers with six shootout goals… Began the season with Carolina, making his NHL debut and earning his first NHL point with an assist on Anton Babchuk's goal against MIN (10/7) in the first game of the 2010 NHL Premiere in Helsinki… Was assigned to Charlotte on 10/31, but recalled to the NHL again on 12/31… Beat Johan Hedberg for his first NHL goal, which proved to be the game-winning goal, vs. NJ (1/1)… Found the net for the second consecutive game and was (+2) vs. FLA (1/3)… Scored his third goal of the season vs. ATL (1/9), prior to being reassigned to Charlotte on 1/14… Served a third stint with Carolina from 2/13-14… Had a five-game AHL goal streak from 11/6-11/12 (6g) and a seven-game AHL point streak from 12/28-1/23 (2g, 12a)… Was a healthy extra for three NHL games... Skated in all 16 Calder Cup Playoff games for Charlotte, as the Checkers advanced to the Eastern Conference Final… Was tied for first among Charlotte skaters in goals (6) and was second on the team in points (13)… Was tied for 13th in the AHL in playoff goals.
2009-10: Completed his sophomore season at Ohio State, where he led the Buckeyes in goals (21), points (45), and power-play goals (8), and ranked second in assists (24), while playing in all 39 of the team's games… His 21 goals ranked first among Central Collegiate Hockey Association (CCHA) skaters, and his 45 points ranked second in the conference… Named to the 2009-10 All-CCHA First Team, as voted by the conference's coaches… Signed a three year, two way contract with Carolina (3/18) and assigned to Albany on an ATO… Made his professional debut at BIN (3/20).
2008-09: Completed his freshman season at Ohio State (CCHA) with 25 points (13g, 12a) and a (+7) rating in 37 games... Was named to the CCHA All-Rookie team and was one of three finalists for CCHA Rookie of the Year... Was tied for third among Buckeye skaters in goals with 13, including three game-winning goals... Was third among CCHA rookies and tied for seventh among NCAA rookies in goals... Was tied for fifth among CCHA rookies in points... Named CCHA Rookie of the Week three times (10/19, 11/10, 2/9)... Scored his first career NCAA goal with a power-play tally at Denver (10/25)... Had a five-game scoring streak from 11/1-11/21 (4g, 2a)... Earned his first collegiate point with an assist vs. Lake State (10/17)... Has three assists and was (+2) vs. Notre Dame (2/8).
Juniors: Totaled 70 points (34-36-70) in 76 career NCAA games during his freshman and sophomore campaigns with the Ohio State Buckeyes… Also played one season in the British Columbia Hockey League (BCHL) with Penticton, totaling 63 points (27g, 36a) in 46 regular-season BCHL games in 2007-08… Was named Penticton's rookie of the year, and posted 17 points (8-9-17) in 15 playoff games to help lead the Vees to the BCHL championship...
Regular Season Stats
Season
Team
GP
G
A
PTS
+/-
SOG
PIM
SOG
SOA
SOGW
SO
2013-14 Regular Season
Utica Comets
6
0
3
3
-6
14
2
0
1
0
0.000
2012-13 Regular Season
Charlotte Checkers
54
21
21
42
16
176
12
1
4
0
0.250
2011-12 Regular Season
Charlotte Checkers
56
18
14
32
-1
183
17
0
8
0
0.000
2010-11 Regular Season
Charlotte Checkers
61
23
34
57
7
170
21
6
11
1
0.545
2009-10 Regular Season
Albany River Rats
9
6
2
8
0
24
0
0
0
0
0.000
Playoff Stats
Season
Team
GP
G
A
PTS
+/-
SOG
PIM
SOG
SOA
SOGW
SO
2013 Calder Cup Playoffs
Charlotte Checkers
5
0
0
0
-5
20
4
0
0
0
0.000
2011 Calder Cup Playoffs
Charlotte Checkers
16
6
7
13
2
43
6
0
0
0
0.000
2010 Calder Cup Playoffs
Albany River Rats
8
3
3
6
5
13
0
0
0
0
0.000