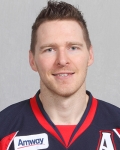 + Enlarge
44
Brennan Evans (D)
Grand Rapids Griffins
| | |
| --- | --- |
| Name: | Brennan Evans |
| Number: | 44 |
| Position: | D |
| Shoots: | L |
| | |
| --- | --- |
| Height: | 6-4 |
| Weight: | 230 |
| Birthdate: | 1982-01-06 |
| Birth place: | North Battleford, SK |
Biography
2013-14: Served as an alternate captain for the Griffins and racked up 17 points (4-13—17) in 68 games, exceeding his 11-year professional records for both goals (3) and points (16)…Ranked first on the team in penalty minutes (111) and shootout percentage (0.500)…Tallied his first regular season goal as a Griffin, 12/18/13 at IA…Chipped in two assists in the Griffins' inaugural outdoor game at Comerica Park, 12/30/13 vs. TOR…Notched his second two-assist game of the season, 4/2/14 vs. IA…Scored on his first professional shootout attempt in the fifth round to earn the victory, 2/23/14 vs. MIL.

2012-13: 2012-13: Won the Calder Cup in his 10th professional season and scored the championship-clinching goal for the Griffins…Tallied more points in 24 postseason games (2-6—8) than in 76 regular season games (0-7—7)…One of just three Griffins to skate in 100 games (every regular season and postseason game)…Finished the season as the AHL's active ironman after appearing in 164 straight games (last DNP: 3/13/11)…Ranked among team leaders with 148 penalty minutes (2nd) and a plus-nine rating (T6th)…Picked up his first point as a Griffin on 11/7/12 at Milwaukee…Tied a career high with two assists on 1/7/13 at Charlotte…Skated in his 700th AHL game on 3/23/13 at Lake Erie…Scored his first goal as a Griffin in Game 1 of the Western Conference Finals, 5/24/13 vs. Oklahoma City…Led all Grand Rapids defensemen with five points (1-4—5) in the Calder Cup Finals.

2011-12: Skated in all 76 games in his second season with Peoria, recording seven points (2-5—7) and 125 penalty minutes, the second-highest total on the Rivermen…Reached 1,300 penalty minutes in the AHL, 1/12/12 vs. Lake Erie, and skated in his 600th professional game two nights later, 1/14/12 vs. Houston…Notched his 100th AHL point, 3/14/12 at Chicago.

2010-11: Served as an alternate captain for the Peoria Rivermen and skated in 66 games…Registered 14 points (3-11—14) and ranked fifth on the team with 113 penalty minutes…Opened the season with assists in back-to-back games, 10/8/10-10/10/10…Played in his 500th AHL game, 10/17/10 at Texas…Recorded his first-ever hat trick, 2/23/11 vs. Texas, accounting for all of the goals he scored on the season, matching his career season-high and equaling his combined goals over his previous 288 games.

2009-10: Skated in a team-high 79 games with the Toronto Marlies after being loaned by Anaheim…Chipped in eight points (1-7—8) and 199 penalty minutes…Placed second on the team and 12th in the league in penalty minutes…Logged his 1,000th professional penalty minute, 12/14/09 vs. Milwaukee, after a fighting major against current Griffin Triston Grant…Matched a career high when he recorded assists in three straight games, 4/3/10-4/10/10.

2008-09: Tied a career high with 14 assists and came one point shy of equaling his career best in points with 15 (1-14—15) in 75 games for the Iowa Chops…Ranked third among his team's defensemen in scoring…Led the Chops and placed 16th in the AHL with 189 penalty minutes…Registered a career-high 24 penalty minutes, 10/28/08 at Houston…Set a new career high with a three-game assist streak (0-3—3), 1/20/09-1/24/09.

2007-08: Set a career high by playing in all 80 games for Worcester…Led the team and placed 15th in the AHL with 211 penalty minutes…Recorded 14 points (1-13—14) for the Sharks.

2006-07: Led the Worcester Sharks with 170 penalty minutes in 75 games…Enjoyed the best offensive season of his professional career with career highs in assists (14) and points (16)…Owned a team-best plus-23 rating which tied for ninth in the AHL…Tied a career high with two assists, 2/2/07 vs. Bridgeport…Set a franchise record after recording a plus-5 rating, 4/11/07 vs. Lowell…Notched an assist and 21 penalty minutes in five playoff games.

2005-06: Tallied nine points (3-6—9) in 70 games for the Binghamton Senators…Scored his first goal since his AHL rookie season, 11/30/05 at Norfolk…Ranked fifth on the club with 198 penalty minutes and 28th overall in the league…Had a season-high 19 penalty minutes on 1/14/06 vs. Bridgeport…Contributed three multi-point games.

2004-05: Logged 51 games for Lowell, tallying seven points (0-7—7) and 79 penalty minutes…Skated in five playoff games for the Lock Monsters.

2003-04: Spent his first professional season with the Lowell Lock Monsters, recording 10 points (1-9—10) and 65 penalty minutes in 64 games…Made his professional debut on 10/10/03 vs. Portland…Notched his first pro point/goal and assist, 10/25/03 at Providence…Made his NHL debut during the first round of Calgary's run to the 2004 Stanley Cup Finals after being called up by the Flames on an emergency basis, 4/27/04 vs. Detroit…Appeared in two games during the playoffs – both against the Red Wings – but did not register on the scoresheet.

2002-03: Enjoyed a career year in his final season of junior hockey, recording a career-high 23 points (6-17—23) in 67 games with Kootenay…Ranked second among Ice defensemen in points and place ninth on the team overall…Led the club with 182 penalty minutes.

2001-02: Played in all 72 regular season games for Kootenay and notched five points (2-3—5)…Ranked fourth on the team with 121 penalty minutes…Had more points in 22 postseason games (0-6—6) than the regular season…Won the 2002 Memorial Cup after capturing the Ed Chynoweth Cup as the WHL's champion.

2000-01: Scored one goal in 11 games with the WHL's Seattle Thunderbirds before a midseason trade to Kootenay…Notched nine points (2-7—9) in 55 games with the Ice and helped the team to the second-best record in the WHL…Tied for sixth on the team with 105 penalty minutes…Skated in all 11 postseason contests.

1999-00: Registered three points (1-2—3) in 52 games in his first full WHL season with Seattle.

1998-99: Spent the season with the AJHL's Camrose Kodiaks in Canada's Junior A circuit and recorded seven points (1-6—7) and 98 penalty minutes in 47 games…Appeared in one postseason contest as a 16-year-old with the Thunderbirds.
Regular Season Stats
Season
Team
GP
G
A
PTS
+/-
SOG
PIM
SOG
SOA
SOGW
SO
2014-15 Regular Season
Grand Rapids Griffins
54
1
3
4
10
40
71
0
0
0
0.000
2013-14 Regular Season
Grand Rapids Griffins
68
4
13
17
14
55
111
2
4
1
0.500
2012-13 Regular Season
Grand Rapids Griffins
76
0
7
7
9
89
148
0
0
0
0.000
2011-12 Regular Season
Peoria Rivermen
76
2
5
7
1
54
125
0
0
0
0.000
2010-11 Regular Season
Peoria Rivermen
66
3
11
14
-3
45
113
0
0
0
0.000
2009-10 Regular Season
Toronto Marlies
79
1
7
8
-7
77
199
0
0
0
0.000
2008-09 Regular Season
Iowa Chops
75
1
14
15
1
70
189
0
0
0
0.000
2007-08 Regular Season
Worcester Sharks
80
1
13
14
0
69
211
0
0
0
0.000
2006-07 Regular Season
Worcester Sharks
75
2
14
16
23
77
170
0
0
0
0.000
2005-06 Regular Season
Binghamton Senators
70
3
6
9
-5
64
198
0
0
0
0.000
Playoff Stats
Season
Team
GP
G
A
PTS
+/-
SOG
PIM
SOG
SOA
SOGW
SO
2015 Calder Cup Playoffs
Grand Rapids Griffins
16
0
2
2
2
6
31
0
0
0
0.000
2014 Calder Cup Playoffs
Grand Rapids Griffins
10
0
0
0
2
7
30
0
0
0
0.000
2013 Calder Cup Playoffs
Grand Rapids Griffins
24
2
6
8
10
31
36
0
0
0
0.000
2011 Calder Cup Playoffs
Peoria Rivermen
4
0
0
0
0
6
6
0
0
0
0.000
2007 Calder Cup Playoffs
Worcester Sharks
5
0
1
1
-1
5
21
0
0
0
0.000