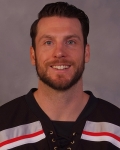 + Enlarge
4
Nathan Paetsch (D)
Grand Rapids Griffins
| | |
| --- | --- |
| Name: | Nathan Paetsch |
| Number: | 4 |
| Position: | D |
| Shoots: | L |
| | |
| --- | --- |
| Height: | 6-1 |
| Weight: | 195 |
| Birthdate: | 1983-03-30 |
| Birth place: | LeRoy, SK |
Biography
2013-14: Collected 31 points (4-27—31) in 68 regular season games and five points (0-5—5) in 10 postseason games…Accumulated six two-assist games en route to ranking among regular season team leaders with 27 assists (3rd), two power play goals (T10th), a plus-18 rating (T3rd), 13 power play assists (2nd), 40 PIM (9th), 123 shots (7th) and a 50.0% shootout percentage (T2nd)…Contributed an assist in three consecutive games, 11/15/13-11/20/14…Suffered an upper-body injury and missed four games, 11/22/13-11/30/13…Chipped in two assists at the First Niagara Center, his former NHL arena, on 2/8/14 at Rochester.

2012-13: Won the Calder Cup with the Griffins…Picked up 31 points (4-27—31) in 70 regular season games and 11 points (0-11—11) in 24 postseason contests…Ranked among team leaders during the regular season with 27 assists (T2nd), a plus-13 rating (T2nd), 11 power play assists (T2nd) and 123 shots (7th)…Tied for third on the team in assists in the playoffs, while ranking fourth overall in scoring by AHL defensemen…Picked up three assists in his first four games as a Griffin, 10/13/12-10/21/12…Scored his first goal of the season on 10/28/12 at Chicago…Set a new career high with a four-game assist streak, which also matched his career-best point streak, 1/6/13-1/12/13…Notched his 100th AHL assist and 200th professional point, 4/2/13 at Houston…Registered three multi-point games during the playoffs, with two assists on 5/1/13 vs. Houston, 6/4/13 vs. Oklahoma City and 6/9/13 at Syracuse.

2011-12: Suited up in 52 games for EHC Wolfsburg Grizzly Adams of the DEL and recorded 25 points (7-18—25)…Finished ninth in team scoring and ranked second among his club's defensemen…Tied for 10th on the team with a plus-10 rating.

2010-11: Totaled 20 points (9-11—20) in 43 games with Rochester and Syracuse…Re-joined Rochester while under contract to Vancouver and played nine games with the Americans before being reassigned to Syracuse…Scored a goal in his first AHL game in over three and a half years (3/31/06), 10/9/10 at Toronto…Registered three points (1-2—3) in nine games with the Amerks and was briefly a teammate of current Griffin Triston Grant…Tallied his first goal with the Crunch, 11/19/10 vs. Albany, to kick off a stretch that saw him record six points (3-3—6) in six games…Recorded a season-high three points (2-1—3), 11/21/10 at Rochester…Racked up eight points (4-4—8) in a career-best four-game point streak, 12/31/10-1/7/11, including a pair of career-best two-goal games…Matched his season-best three points (2-1—3), 1/1/11 at Rochester…Finished second among Syracuse defensemen in scoring.

2009-10: Split the season between Buffalo and Columbus, totaling two points (1-1—2) in 21 games…Scored his only goal of the season while with the Sabres, 12/21/09 at Toronto…Played a season-high 15:35 and recorded in assist in his final game with Buffalo, 1/27/10 vs. New Jersey…Made his Blue Jackets debut, 3/6/10 at San Jose.

2008-09: Chipped in six points (2-4—6) in 23 games with the Sabres…Tallied an assist in his season debut, 10/23/08 at Minnesota…Recorded two assists in his first three games, 10/23/08-10/27/08…Had a goal and an assist, 1/27/09 at Edmonton…Recorded a career-high 21 penalty minutes, 1/31/09 at Phoenix…Posted four points (2-2—4) in a six-game span, 1/27/09-2/6/09.

2007-08: Recorded nine points (2-7—9) in 59 games with Buffalo…Tied for ninth on the team with a plus-three rating…Picked up an assist and a plus-two rating in the first game of the season, 10/5/07 vs. NY Islanders…Played a season-high 19:04, 10/24/07 at Carolina…Recorded a multi-point game (1-1—2), 10/27/07 at Tampa Bay.

2006-07: Logged 24 points (2-22—24) in 63 games in his first full season in the NHL for the President's Trophy-winning Sabres…Finished 18th in the NHL in rookie scoring and fourth among rookie defensemen…Tallied a career-best four-game assist streak, 1/26/07-2/1/07, in a stretch that saw him register seven assists in a seven-game span, 1/26/07-2/7/07…Recorded his first NHL multi-point game (0-2—2), 2/6/07 at Atlanta, and had another two-assist game, 2/20/07 vs. Philadelphia…Scored his first NHL goal, 3/3/07 at Toronto, and registered another the following game, 3/7/07 vs. Colorado.

2005-06: Enjoyed a breakout season with Rochester, piling up 50 points (11-39—50) in 72 contests…Led his team's defensemen and tied for third overall in scoring…Tied for ninth in the AHL in points by a defenseman…Racked up six assists over a seven game stretch to start the season, 10/8/05-10/29/05…Had a career-high three assists, 11/11/05 vs. Manitoba…Had a career-high 10 shots on goal, 11/19/05 at Syracuse…Amassed a career-best five points (2-3—5), 11/27/05 vs. Toronto…Recorded 24 points (2-18—20) over a 24-game stretch, 10/8/05-12/10/05…Recorded three two-goal contests and 12 multi-point games overall…Finished second on the team with 202 shots…Represented the Amerks at the AHL All-Star Classic…Notched an assist in his NHL debut, 1/7/06 vs. New Jersey…Skated in one regular season and one postseason contest with Buffalo, picking up a team-high three shots in Game 7 of the Eastern Conference Finals, 6/1/06 at Carolina.

2004-05: Was the only Amerk to play in all 80 games…More than doubled his rookie year totals with 23 points (4-19—23) as a second-year pro…Finished second on the club with a plus-15 rating and second among defensemen in points…Collected a career-high 150 penalty minutes, placing fifth on the club…Picked up a season-high two points (1-1—2) on two occasions, 1/26/05 and 2/25/05 at Hamilton.

2003-04: Began his professional career with Rochester after re-entering the draft (originally selected by Washington in the second round, 58th overall, of the 2001 NHL Entry Draft)…Totaled 10 points (5-5—10) in 54 games as a first-year pro…Ranked second among team defensemen with five goals…Made his professional debut with the Americans, 10/18/03, at Syracuse and notched his first assist against the same club, 10/26/03…Scored his first professional goal with a shorthanded marker, 11/10/03 vs. Cincinnati…Recorded his first multi-point game with two points (1-1—2), 3/13/04 at Hamilton…Picked up two points (1-1—2) in 16 postseason contests.

2002-03: Posted 54 points (15-39—54) in 59 games in his final season with Moose Jaw…Finished his junior career as Moose Jaw's all-time leader in points by a defenseman with 212 (48-164—212) in four WHL seasons…Placed fifth on the team and ninth among league defensemen in scoring…Earned a second straight berth to the Eastern Conference All-Star Team and also captured a spot on the conference Second All-Star Team at the end of the season…Tallied 13 points (3-10—13) in 13 postseason games, ranking third on the club….Earned a second straight silver medal with Canada at the World Junior Championship in Halifax, Nova Scotia.

2001-02: Placed third on Moose Jaw and tied for ninth among WHL defenseman with 52 points (16-36—52) points in 59 games…Ranked fifth among WHL blueliners with a career-high 16 goals…Represented his team at the WHL All-Star Game…Tallied four assists in 12 playoff games…Won a silver medal with Canada at the World Junior Championship in the Czech Republic, picking up one assist in seven games.

2000-01: Named Moose Jaw's Defenseman of the Year after finishing fourth on the team with 62 points (8-54—62) in 70 games…Ranked seventh among WHL defenseman in points and third in assists…Led the Warriors in assists…Played for Team Cherry in the CHL Top Prospects game…Ranked ninth on the team with 118 penalty minutes…Tallied three points (1-2—3) in four playoff games and earned the team's Playoff MVP award.

1999-00: Led all rookie defensemen and tied for 15th among all WHL blueliners with 44 points (9-35—44) in 68 games with Moose Jaw…Tied for sixth on the Warriors in scoring and ranked third in assists…Had one assist in four playoff games.

1998-99: Appeared in two regular season and one postseason game with WHL Moose Jaw…Totaled 75 points (20-55—75) and 120 penalty minutes in 74 contests with Tisdale in Saskatchewan's junior circuit.
Regular Season Stats
Season
Team
GP
G
A
PTS
+/-
SOG
PIM
SOG
SOA
SOGW
SO
2015-16 Regular Season
Grand Rapids Griffins
1
0
0
0
0
2
0
0
0
0
0.000
2014-15 Regular Season
Grand Rapids Griffins
75
8
30
38
24
153
42
0
1
0
0.000
2013-14 Regular Season
Grand Rapids Griffins
68
4
27
31
18
123
40
1
2
1
0.500
2012-13 Regular Season
Grand Rapids Griffins
70
4
27
31
13
123
32
0
0
0
0.000
2010-11 Regular Season
Syracuse Crunch
34
8
9
17
-3
86
12
0
1
0
0.000
2010-11 Regular Season
Rochester Americans
9
1
2
3
-2
9
2
0
0
0
0.000
2005-06 Regular Season
Rochester Americans
72
11
39
50
3
202
90
0
0
0
0.000
Playoff Stats
Season
Team
GP
G
A
PTS
+/-
SOG
PIM
SOG
SOA
SOGW
SO
2015 Calder Cup Playoffs
Grand Rapids Griffins
16
0
4
4
-2
24
2
0
0
0
0.000
2014 Calder Cup Playoffs
Grand Rapids Griffins
10
0
5
5
2
12
4
0
0
0
0.000
2013 Calder Cup Playoffs
Grand Rapids Griffins
24
0
11
11
5
40
21
0
0
0
0.000