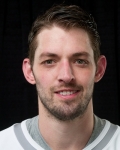 + Enlarge

39
Dan Ellis (G)
San Antonio Rampage
| | |
| --- | --- |
| Name: | Dan Ellis |
| Number: | 39 |
| Position: | G |
| Shoots: | L |
| | |
| --- | --- |
| Height: | 6-0 |
| Weight: | 185 |
| Birthdate: | 1980-06-19 |
| Birth place: | Saskatoon, SK |
Biography
2013-14 Highlights Completed his eighth NHL season, first with the Panthers...Stopped 23 shots vs. Tampa Bay in March 13 debut with Florida...Acquired from Dallas on March 5, in exchange for G Tim Thomas...Made 32 saves for Dallas in his first win of the season on October 14 vs. San Jose 2012-13: Played his first AHL game since 2007 vs. Texas losing 4-3 in shootout that lasted 9 rounds…Ellis stopped 39 of 42 shots with a .929 SV%
2011-12: Appeared in his fifth full NHL season, his second with Anaheim... was limited to 10 games due to injury, going 1-5-0 with a 2.72 GAA and .911 SV%... was placed on injured reserve with a torn groin on Jan. 8 and missed 42 of the final 43 games of the season... underwent successful sports hernia surgery on March 2... was activated on April 7 and backed up Jonas Hiller in the club's season finale that afternoon at Calgary... his final appearance of the season fell on Dec. 29 vs. Vancouver, stopping 14-of-15 shots in relief of Jonas Hiller... missed four contests with a groin strain from Nov.27-Dec.4... earned his lone win in his season debut on Oct. 17 at San Jose, turning away 41-of-43 shots for a 3-2 victory.
2010-11: Appeared in his fourth full NHL season, split with Anaheim and Tampa Bay…in 44 overall games, combined for a 21-10-7 record with two shutouts, a 2.77 GAA and .898 SV%…started Anaheim's final two regular season games against LA, stopping 66-of-68 shots (.971 SV%) for consecutive victories to help clinch a playoff berth on Apr. 8 and fourth-place in the Western Conference on Apr. 9…set season highs in both saves (43) and shots faced (44) in a 3-1 victory, Apr. 9 @ LA… over his final 17 games with Anaheim and Tampa Bay, stopped 416-of-452 shots for a .920 SV%, 2.23 GAA (36 GA/968 MIN) and 10-3-2 record…won his first game as a Duck on Feb. 27 vs. COL, turning away 22-of-24 shots in a 3-2 win…stopped 28-of-31 shots in his Anaheim debut, Feb. 25 vs. MIN…in 31 games with Tampa Bay, went 13-7-6 with a 2.93 GAA and .889 SV%...at the time of the trade, led the Lightning in wins and games played… in his final 11 appearances with Tampa Bay, posted a 5-2-2 record with a 2.44 GAA and .910 SV%…compiled a season best shutout streak of 121:13 from Oct. 24-Nov. 3…PLAYOFFS: Made his second postseason appearance, his first with Anaheim, in the club's CQF series vs. NSH…appeared in Game 1, stopping 20-of-24 shots in 40:56 TOI.
2009-10: Appeared in 31 games with Nashville, posting a 15-13-1 record that was the second-best mark of his career…recorded a .909 save percentage and a 2.69 GAA, also good for the second-best totals of his career…allowed just 77 goals, a career low…moved into a tie for third place on the Predators all-time franchise list with his 10th career shutout (22 saves), Jan. 15 at CGY…posted a three-game win streak from Dec. 14-19, stopping 78-of-85 shots…was 4-2-0 from the start of Feb. until the end of the regular season, allowing just one goal in two of the wins…posted a combined undefeated regulation record of 5-0-1 against Southeast (3-0-1) and Atlantic Division (2-0-0) opponents… won four of his last six road starts of the season, going 4-2-0…stopped 8-of-10 shooters in two shootout appearances (.800 SV%), which ranked sixth among all NHL goaltenders who faced at least 10 attempts…held a shutout streak of 143:42 from Jan. 11-18, his longest of the season.
2008-09: Appeared in his second full NHL season with Nashville, going 11-19-4 with a 2.93 GAA and .900 SV% in 35 games… posted a 1.98 GAA and a .937 SV% in Dec…notched two shutouts in a five-game span from Nov. 25-Dec. 13…named the NHL's Third Star of the Week for the period ending Nov. 16 after going 3-0-0 @ SJ, ANA and LA from Nov. 11-15…stopped 119-of-126 shots during that span…made a franchise-record 54 saves in a 4-3 OT win, Nov. 11 @ SJ…started 19 of the team's first 21 games of the season.
2007-08: Made his Stanley Cup Playoff debut in 2008, leading the NHL with a .938 SV%…played in all six games of the club's CQF series vs. DET, his first six career postseason contests… stopped 52-of 54 shots in Game 5, setting a franchise record for saves in a playoff game…led the NHL with a .924 SV% in his first full season in the league…tied for third in the NHL in shutouts (6)…compiled an 11-3-3 record in one-goal games and an 18-1-0 mark when receiving three or more goals in offensive support… named the NHL's Second Star of the Week on March 30 after posting a 2-0-1 record with a 0.33 GAA, .991 SV% and two shutouts…set a franchise record with a 233:48 shutout streak (147 saves) from Mar. 22 vs. CHI until March 30 vs. DET...the streak ranked fifth-best in the NHL's modern era at the time…is one of four players in NHL history to win at least seven consecutive games to start a career along with Bob Froese (8) and Ray Emery (9)…posted a shutout in his first start as a Predator, stopping 20 shots in a 3-0 victory Oct. 25 vs. ATL…signed a two-year contract with Nashville, June 23.
2006-07: Ranked third in the AHL in minutes played (3,194) and fourth in wins (30) with Iowa…ranked 12th in the AHL with a .912 save percentage
2005-06: Earned the first win in Iowa Stars history, a 7-2 decision, Oct. 16 vs. San Antonio. 2003-04...Made his NHL debut with Dallas on Feb. 18 at LA, stopping 25-of-28 shots in his first NHL win…named the Most Valuable Player of the ECHL playoffs and the MVP of the Kelly Cup Finals after leading Idaho to a league championship in 2004 with a 13-3 record and a 1.86 GAA.
COLLEGE: Played three seasons at the University of Nebraska-Omaha (CCHA), ranking among the school's leaders in games played (118), games started (117), wins (53), shutouts (7) and saves (3,125)…named to the CCHA Second All-Star team in 2001-02.
JUNIOR: Named the USHL Goaltender of the Year, Player of the Year and a First-Team All-Star after leading the USHL in wins (34), minutes played (3,274), shutouts (11) and GAA (2.25) with Omaha in 1999-00.
Regular Season Stats
Season
Team
GP
GA
Mins
Saves
GAA
SV%
W
L
OT
SOW
SOL
SOGA
SOA
SO%
SO
2014-15 Regular Season
San Antonio Rampage
37
99
2191
935
2.71
0.904
22
12
3
4
0
3
20
0.850
2
2012-13 Regular Season
Charlotte Checkers
18
42
1026
494
2.46
0.922
8
7
-
1
2
7
25
0.720
2
2006-07 Regular Season
Iowa Stars
55
148
3194
1243
2.78
0.894
30
21
-
4
1
6
28
0.786
4
2005-06 Regular Season
Iowa Stars
34
86
1857
883
2.78
0.911
16
13
-
4
1
6
30
0.800
2
Playoff Stats
Season
Team
GP
GA
Mins
Saves
GAA
SV%
W
L
OT
SOW
SOL
SOGA
SOA
SO%
SO
2015 Calder Cup Playoffs
San Antonio Rampage
2
5
123
69
2.44
0.932
0
2
-
0
0
0
0
0.000
0
2007 Calder Cup Playoffs
Iowa Stars
12
35
679
267
3.09
0.884
6
6
-
0
0
0
0
0.000
0