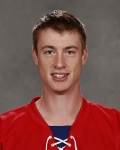 + Enlarge
31
Nathan Lieuwen (G)
Rochester Americans
| | |
| --- | --- |
| Name: | Nathan Lieuwen |
| Number: | 31 |
| Position: | G |
| Shoots: | L |
| | |
| --- | --- |
| Height: | 6-5 |
| Weight: | 192 |
| Birthdate: | 1991-08-08 |
| Birth place: | Abbotsford, BC |
Biography
ACQUIRED
Buffalo Sabres' sixth-round selection (167th overall) in the 2011 NHL Entry Draft. Signed a three-year, entry-level NHL contract with Buffalo on May 5, 2012.

LAST SEASON
2013-14: Appeared in four games with the Buffalo Sabres (NHL), earning a 1-4-0 record with a 2.98 goals-against average and a .906 save percentage… Posted a 17-11-2 record with a 2.34 goals-against average and a .922 save percentage in 32 games for the Rochester Americans (AHL)… Made 830 saves on 900 shots faced and finished with two shutouts… Ranked fourth in save percentage and tied for seventh in goals-against average among AHL netminders, respectively… Name the Amerks' Rookie of the Year as voted on by members of the team's Booster Club… Suffered a season-ending concussion in a 5-2 loss at Philadelphia on 4/06… Stopped 33 shots in regulation and made seven more saves in the shootout to register his first NHL win vs. New Jersey on 4/01… Earned the start for Buffalo in his hometown at Vancouver on 3/23… Made 32 saves in his first-ever NHL start at Calgary on 3/18, a 3-1 loss to the Flames… Made his NHL debut against the Montreal Canadiens on 3/16, becoming the 42nd different player to play for the Sabres this season… Entered the game with 3:51 remaining in the second period and finished the contest stopping all 10 shots he faced in Buffalo's 2-0 loss… Also became the fourth Amerk and the 107th AHL player in 2013-14 to make his NHL debut... Received his first-ever NHL recall from the Buffalo Sabres on 3/16… Started four straight games from 3/02 to 3/08… Recorded his first point as an Amerk with an assist vs. Syracuse on 3/07… Started five straight games from 2/16 to 2/27… Had a three-game win streak from 2/14 to 2/19… Posted a season-long four-game winning streak from 1/18 to 2/01… Stopped all 26 shots in a 4-0 win at Wilkes-Barre/Scranton to earn his second shutout of the season… Made a season-high 45 saves, including 19 in the first period, in a 4-1 loss at Texas on 1/15... Stopped 34 of 35 shots in a 3-1 win at Hamilton on 1/11 to earn first star honors, his first start since 12/20… Made 11 saves in one game for the Amerks during the 2013 Spengler Cup in Davos, Switzerland… Stopped 24 shots through regulation and overtime to earn his first shutout of the season in a 1-0 shootout loss vs. Lake Erie on 12/20… Was victorious in back-to-back starts against Hamilton on 11/27 and vs. Lake Erie on 11/29… Stopped 33 of 35 shots in a win at Utica on 11/15 to garner second star honors… Earned his first win in his first start of the season against Toronto on 10/18… Made season debut vs. Grand Rapids on 10/04, stopping five shots in 23:23 of relief work.

CAREER

2012-13: Posted a 1-2-0 record with a 2.65 goals-against average and a .919 save percentage in four AHL appearances with Rochester… Made 102 saves on 111 shots and finished with one shutout… Played the majority of the season with the ECHL's Greenville Road Warriors, where he tabbed a 14-10-12 record to go along with a 2.93 goals-against average and a .903 save percentage… Totaled 728 saves on 806 shots and recorded one shutout in 27 ECHL games with Greenville… Missed the last nine games (4/05-4/21) of the regular season with an injury… Earned his first AHL win with a 39-save shutout at San Antonio on 3/24… Made 17 saves in his Amerks/AHL debut against Hershey on 2/17… Reassigned to Rochester by Buffalo (NHL) from Greenville 2/03… Made a season-high 39 saves against Wheeling on 12/28… Named the Reebok Hockey/ECHL Goaltender of the Week for period ending Dec. 16 after posting a 2-0-0 record with one shutout, a 0.50 goals-against average and a .983 save percentage in two starts… Recorded his first pro shutout, stopping all 26 shots in a 6-0 win at South Carolina on 12/11… Had a second four-game win streak from 1/05 to 1/21… Registered four straight wins between 10/28 and 11/07… Earned his first pro win with a 28-save effort in Greenville's 6-5 shootout victory at Orlando on 10/28… Made 16 saves in his professional debut at Trenton on 10/12 (3-1 loss)... Assigned to the Greenville Road Warriors prior to the start of the season… 2011-12: Closed out his junior career with the Kootenay Ice (WHL), posting a 27-20-8 record with a 2.59 goals-against average and a .914 save percentage… Set career-highs in all goaltending categories, including games played (57), minutes played (3,340), saves (1,483), goals-against average and save percentage… Ranked third and fifth among league goaltenders in goals-against average and save percentage, respectively… Tabbed his second consecutive three-shutout season and finished tied for sixth among WHL netminders… Placed ninth among WHL backstops in minutes played while ranking 11th in saves and wins… Appeared in four postseason games with the Ice, boasting a 0-4 record to go along with a 3.53 goals-against average and a .896 save percentage… Recorded his ninth career shutout at Calgary on 2/12… Set a new franchise record for the most wins by a goaltender with 85 career victories, surpassing the mark of 82 that was previously held by Taylor Dakers from 2003-07… 2010-11: Led the Kootenay Ice to the WHL Championship and a berth in the Memorial Cup… Was named WHL Playoffs Most Valuable Player… Posted a record of 16-2-1 with a 2.24 goals-against average, a .923 save percentage and three shutouts in 19 playoff games… Led all WHL goaltenders in postseason wins, shutouts, GAA, saves… Made 50 saves in a 3-2 overtime win over Saskatoon to win Game 2 of the second round playoff series between the teams… Notched his first career WHL playoff shutout on 3/30 at Moose Jaw before going on to post shutouts against 
Saskatoon on 4/12 and Medicine Hat on 4/23… Set a franchise record for the most shutouts during one postseason… Went 33-16-1-3 with three shutouts, a 2.79 goals-against average and a .903 save percentage in 55 games during the regular season… Established a career-high with 33 wins… Ranked eighth among WHL goalies in wins, ninth in shutouts and goals-against average and 13th in save percentage… Played in his 100th WHL game vs. Edmonton on 1/18... Named the Kootenay Ice Scholastic Player of the Year for the second straight season… 2009-10: Went 10-10-0 with a 3.09 goals-against average and a .896 save percentage in 26 games with Kootenay of the WHL… Named the Kootenay Ice Scholastic Player of the Year… Also appeared in three playoff games for the Ice, making his WHL postseason debut on March 24, 2010 and stopping all six shots he faced in 26 minutes of relief action… 2008-09: Posted a record of 14-12-1 with a 2.95 goals-against average, a .885 save percentage and three shutouts for Kootenay (WHL)… Named to Team Cherry for the Home Hardware Top Prospects Game… Made 18 saves in a win over Prince Albert to record his first career WHL shutout on 10/17… 2007-08: Played in 13 games for Westside of the BCHL, going 9-2-0 with a 1.95 goals-against average and a .931 save percentage… Went on to play three games with the WHL's Kootenay Ice, posting a record of 1-1-1… Recorded his first WHL win in Kootenay's 8-3 victory over Prince Albert on 1/25… INTERNATIONAL COMPETITION: Represented Team Canada as the starting goaltender at the 2008 U-18 Ivan Hlinka tournament in Slovakia, helping his country to a gold medal… Was part of Team Pacific at the 2007 U-17 championship in London, Ontario.
Regular Season Stats
Season
Team
GP
GA
Mins
Saves
GAA
SV%
W
L
OT
SOW
SOL
SOGA
SOA
SO%
SO
2014-15 Regular Season
Rochester Americans
16
45
820
340
3.29
0.883
4
9
-
1
0
0
7
1.000
0
2013-14 Regular Season
Rochester Americans
32
70
1796
830
2.34
0.922
17
11
-
0
2
4
10
0.600
2
2012-13 Regular Season
Rochester Americans
4
9
204
102
2.65
0.919
1
2
-
0
0
0
0
0.000
1