+ Enlarge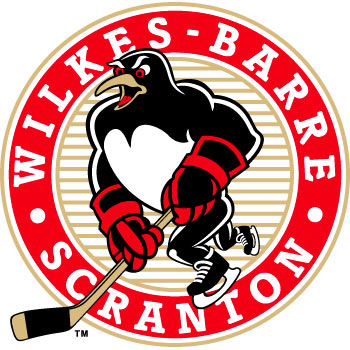 38
Jeff Deslauriers (G)
Wilkes-Barre/Scranton Penguins
| | |
| --- | --- |
| Name: | Jeff Deslauriers |
| Number: | 38 |
| Position: | G |
| Shoots: | R |
| | |
| --- | --- |
| Height: | 6-4 |
| Weight: | 203 |
| Birthdate: | 1984-05-15 |
| Birth place: | St-Jean-Richelieu, QC |
Biography
2012-13: Began season with Norfolk Admirals (AHL), going 1-1-0 in two appearances...Skated in 15 games for Fort Wayne Komets of the ECHL, posting a record of 6-8-1 with a 3.25 GAA and a .902 save percentage…Acquired from Anaheim by Minnesota on 4/3/13 for future considerations…Recorded 22-save shutout in debut with Houston Aeros on 4/7/13 vs. HAM…Registered a 1-1-0 record in three games, along with a 1.17 GAA and a .967 save percentage.
2011-12: Appeared in 16 games for Syracuse Crunch (AHL), going 6-9-0 with a 3.75 GAA and a .881 save percentage.
2010-11: In net for Oklahoma City, went 17-13-4 over 35 games with three shutouts, a 2.81 GAA and a .906 save percentage…Played in four NHL games with NHL, compiling a 3-1 record.
2009-10: Spent the entirety of season in the NHL with the Edmonton Oilers, registering a 3.26 GAA, three shutouts and .901 save percentage to go with a 16-28-4 record.
2008-09: Limited to only 15 games total during the season…Dressed in 10 games for Edmonton, making NHL debut while going 4-3-0….Earned first NHL win on 10/17/08 vs. Calgary…Posted a 1-4-0 record in five AHL contests for Springfield with a 2.73 GAA and a .906 save percentage.
2007-08: Set career highs in wins (26) and saves (1532) while going 26-23-5 over 57 games with Springfield.
2006-07: In third year as pro, collected a 22-12-3 record over 40 games as a backstop for Wilkes-Barre/Scranton…Recorded a 2.47 GAA and a .903 save percentage…Also notched career-best four shutouts.
2005-06: Skated in just 19 games during season due to injury…Had a record of 4-7-0 in 13 games with Hamilton Bulldogs (AHL) and was 2-4-0 for Greenville Grrrowl (ECHL).
2004-05: Split season between Edmonton Roadrunners (AHL) and Greenville….Registered a record of 7-3-1 for Grrrowl with a 2.32 GAA and a .940 save percentage….Went 6-13-2 in 22 games for Roadrunners.
OTHER: Was a three-year starter for the QMJHL's Chicoutimi Sagueneens (2001-04)….Totaled 150 games played with a record of 67-64-8.
Regular Season Stats
Season
Team
GP
GA
Mins
Saves
GAA
SV%
W
L
T
OTL
SOW
SOL
SOGA
SOA
SO%
SO
2013-14 Regular Season
Wilkes-Barre/Scranton Penguins
40
92
2140
783
2.58
0.895
20
15
0
0
2
3
9
21
0.571
1
2012-13 Regular Season
Houston Aeros
3
2
103
58
1.17
0.967
1
1
0
0
0
0
0
0
0.000
1
2012-13 Regular Season
Norfolk Admirals
2
7
120
56
3.51
0.889
1
1
0
0
0
0
0
0
0.000
0
2011-12 Regular Season
Syracuse Crunch
16
54
864
399
3.75
0.881
6
9
0
0
0
0
0
0
0.000
0
2010-11 Regular Season
Oklahoma City Barons
35
91
1945
882
2.81
0.906
17
13
0
0
0
4
9
17
0.471
3
2008-09 Regular Season
Springfield Falcons
5
13
286
126
2.73
0.906
1
4
0
0
1
0
6
9
0.333
0
2007-08 Regular Season
Springfield Falcons
57
147
3045
1532
2.90
0.912
26
23
0
0
4
5
14
43
0.674
0
2006-07 Regular Season
Wilkes-Barre/Scranton Penguins
40
92
2231
909
2.47
0.908
22
12
0
0
3
3
11
35
0.686
4
2005-06 Regular Season
Hamilton Bulldogs
13
35
666
304
3.15
0.897
4
7
0
0
2
0
3
13
0.769
0
Playoff Stats
Season
Team
GP
GA
Mins
Saves
GAA
SV%
W
L
T
OTL
SOW
SOL
SOGA
SOA
SO%
SO
2011 Calder Cup Playoffs
Oklahoma City Barons
1
3
20
3
9.00
0.500
0
1
0
0
0
0
0
0
0.000
0